Topics keyboard_arrow_down
MetaOptima is working with Pure Pharmacy to provide patients with advanced skin checks at six of their locations in the Greater Vancouver Area.1 This is exciting for patients and medical professionals alike, as studies demonstrate that teledermatology services decrease unnecessary in-clinic visits while promoting the early detection of skin cancer.
Importance
Skin checks like these are primary examples of how the skin health industry will be reshaped by intelligent dermatology tools. For example, studies demonstrate that the use of telemedicine services decrease unnecessary in-clinic visits by as much as 40%.2 In addition to saving the patient time and additional costs, this provides medical professionals with a greater level of control over their daily workflows while gaining access to advanced skin analytics through the use of platforms like DermEngine.

Pure Pharmacy is dedicated to providing accessible, user-friendly solutions designed to empower people with the tools they need to take their skin health (and beyond) into their own hands.3 MetaOptima builds on this vision by developing world-class intelligent healthcare solutions to empower physicians with advanced technologies to better help their patients. Together, Pure Pharmacy and MetaOptima are providing medical professionals with advanced skin analytics tools to enhance their consultations, while offering affordable and accessible skin checks to the community.
How It Works
Working together, Pure Pharmacy and MetaOptima will promote high quality, advanced, and effective skin cancer imaging using two technologies: MoleScope (mobile dermoscope) and DermEngine (intelligent dermatology software).
MoleScope is a digital dermatoscope that can be attached to a wide variety of supported tablets or smartphones. The device will be used in the pharmacies to collect the dermoscopic images with high quality polarized lighting and magnification before they are sent to dermatologists for review on DermEngine.
DermEngine is an intelligent dermatology software that provides high-quality dermoscopy imaging, efficient documentation and a seamless, secure communication solution for teledermatology services. Fueled by artificial intelligence (AI), this advanced dermatology system offers cutting-edge skin cancer imaging technology based on content-based image retrieval (CBIR) algorithms to support dermatologists with their clinical decisions.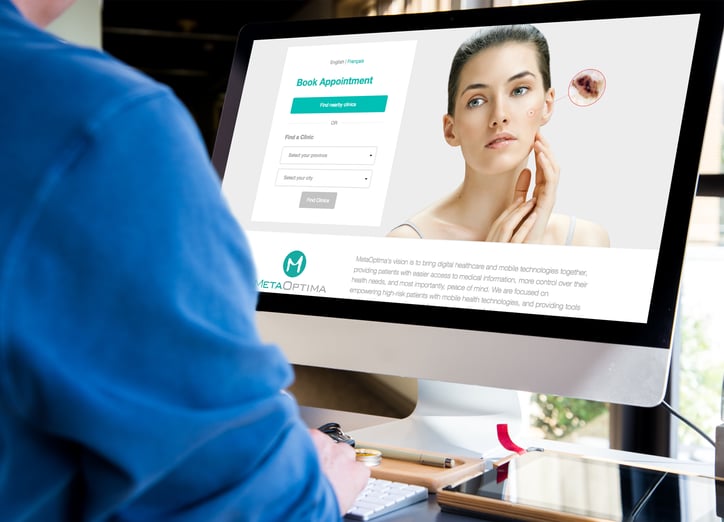 To get started, patients can simply visit the Pure Pharmacy website and schedule an appointment with the intuitive online booking system.3 Alternatively (if space is available) they can drop-in at a pharmacy during business hours.
Once the patient arrives for their appointment, the staff member will take a medical-grade quality image with MoleScope. This image will be analyzed by a board-certified dermatologist via DermEngine for review, and provide an eTriage report for the patient within five business days.
Conclusion
MetaOptima is proud to work alongside a pharmacy that is proactively offering advanced care to their customers. By working with Pure Integrative Pharmacy, we expect to provide a wide range of people with an essential service that has the potential to save lives. We look forward to commencing this project, as it adds to our vision of providing medical professionals with the technology to focus on their patients rather than the practice itself.
-The MetaOptima Team
Topics: DermEngine Dermoscopy MoleScope Pure Pharmacy Skin Checks Dermatoscope News & Events