Topics keyboard_arrow_down
The American Academy of Dermatology (AAD) will host an informational session on AI/technology in Dermatology on August 12th, 2023. The session will feature several speakers including Meenal Kheterpal, MD, FAAD, associate professor of dermatology at Duke University to speak on the topic. She believes that while AI in dermatology is still in its early stages, there is tremendous potential in the field.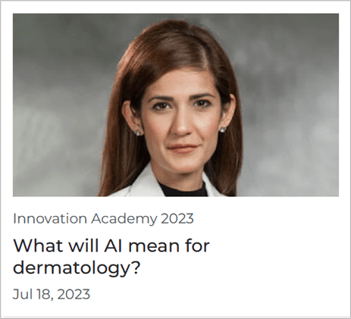 General Feelings
Generally, the public is wary over the use of AI and advanced technologies, especially in fields like healthcare and dermatology. Many concerns are over the lack of regulation, patient data privacy, and the potential of bias being taught to the machines. Similarly, Kheterpal holds a cautious view and says many successful use cases are merely "proof of concept projects" and anything commercial will require more work than what has previously been done.
"Most published models are proof-of-concept projects. The applications include triage, diagnosis, quality analysis, and disease quantification. However, large-scale image datasets with disease annotations will be needed to create reproducible models".
Yet, Kheterpal does recognize the few research and commercial organizations who have been successful in implementing AI technologies in their products.
"There is a curated dataset for skin cancers housed by International Skin Imaging Collaboration. There are tools available for tracking lesions at high risk of skin cancer for clinical decisions support. There are also groups detecting changes in lesions based on wide field images."
Early Adopters
It seems that the use of AI technology in dermatology is among the early adopters (Rogers, 1995). While there are several companies innovating and successfully implementing AI in their products, the widespread use of it is still lacking. This happens at the beginning of any technological innovation as it requires ongoing research and refinement to develop reliable AI. Until the issues of data privacy, quality assurance, and regulatory guidance are solved, the widespread adoption of AI into the early majority stage will face significant resistance.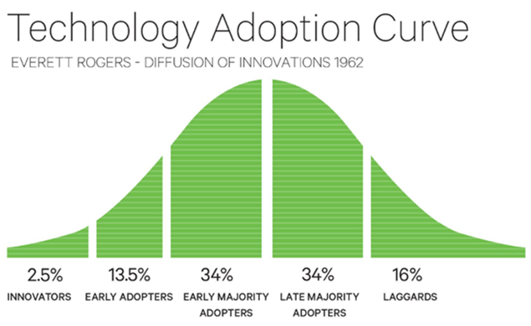 Data Privacy and Security Concerns
So, what can a future in dermatology with AI look like? First, we need to ensure compliance to the most relevant regulatory standards there are. This was the primary cause of concern for AI in healthcare according to the article. Until we can standardize a product or service with best practices and clear regulations of use, the widespread adoption into the early majority stage will remain a challenge. When privacy and security concerns are resolved, then we can focus on creating clinically validated AI-powered products that are truly helpful and easy to adopt by many.
Our Solution
Our global implementation of DermEngine and working closely with many centers of excellence have helped us identify how we can utilize AI to empower our users safely. We've developed features powered by AI that could help our users in educational capacities as well as improve their workflow efficiency. These features include DermEngine's Visual Search, SmartSnap, Evolution Tracker, and more.
We believe a safe, successful implementation of AI in healthcare could look like this in the early stages.
When we prioritize safety, accessibility, quality, and efficiency, we can improve patient outcomes. Now, we continue to bring our innovative AI-powered diagnostic software tools to the market.
If you are just as excited about leading the wave and bringing AI to your practice and health systems, please contact us. We are always looking for pioneers, users, and champions who want to help with clinical validation and trials to build the future together today.



-The MetaOptima Team
Sources
1. https://www.aadmeetingnews.org/innovation-academy-2023/article/22867171/what-will-ai-mean-for-dermatology
2. https://www.researchgate.net/publication/311487299_Diffusion_of_Innovations
3. https://sphweb.bumc.bu.edu/otlt/MPH-Modules/SB/BehavioralChangeTheories/BehavioralChangeTheories4.html
Topics: Artificial Intelligence AI In Healthcare Dermatology Software Health Tech News & Events