Topics keyboard_arrow_down
MetaOptima is thrilled to announce that our Business Development Manager, Karen Meohas, along with our European distributors are currently in Dusseldorf, Germany, attending the Medica Trade Fair! With the initiative of our European distributors, IDCP, DermEngine's latest features are being showcased at one of the world's largest trade fair for advanced medical and healthcare technologies.
Medica 2017 is an excellent opportunity for MetaOptima to meet distributors and discuss the features, benefits, and future applications of intelligent dermatology software DermEngine with potential business customers. At this event, our booth will focus on demoing the platform's teledermatology and artificial intelligence-fueled features as well as raise awareness about the software's newest upcoming feature.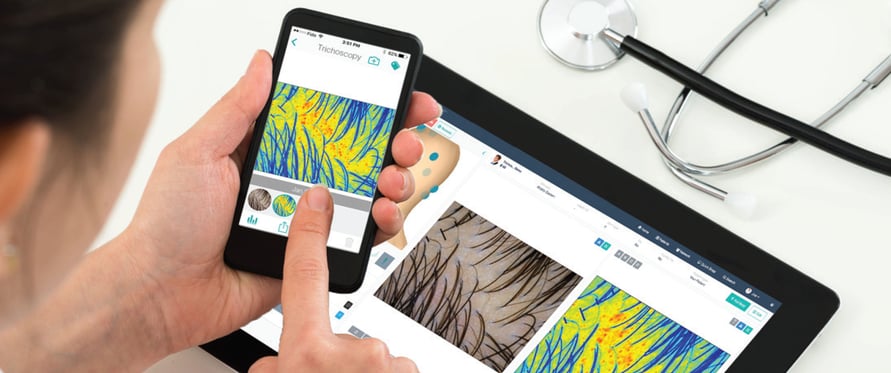 In the near future we will be releasing a trichoscopy module for DermEngine, which will offer analyses for items such as hair count and density, follicle count and type, as well as classification of hair thickness (thin, medium, thick). Designed to work seamlessly with TrikoScope, this tool will enhance your practice with advanced analytics while providing an intuitive layout to streamline workflows.
We are excited to have the opportunity to share our technologies at Medica Trade Fair 2017, and look forward to developing relationships with the new contacts we meet at the event over the next few days! Would you like to stay updated on MetaOptima's latest news as well as hear about DermEngine's new features before anyone else? Subscribe to our blog below!
-The MetaOptima Team
Are you interested in learning more about how
Trikoscope
is designed to work with DermEngine? Download our brochure today.
Topics: DermEngine MetaOptima Medica Medica Trade Fair News & Events