Topics keyboard_arrow_down
We are delighted to attend the V Congreso Latinoamericano de Dermatoscopia (CLD) conference in Santiago, Chile this September 7th-9th, 2023. Our company founders, Dr. Maryam Sadeghi (CEO) and Dr. Majid Razmara (CTO) will be attending the congress and will host a presentation on "AI in Dermatology - Implementation for Success."
V Congreso Latinoamericano de Dermatoscopia 2023
The V Congreso Latinoamericano de Dermatoscopia, or the 5th annual Latin American Congress of Dermoscopy, will be an enlightening experience, bringing together experts and professionals from across Latin America to discuss the latest advancements, trends, and insights in the field. The congress will feature 23 presentations and eight esteemed international doctors with an audience full of experts and enthusiasts. The diverse thoughts and experiences present at the conference will lead to a well-rounded discussion on the latest in dermoscopy.

MetaOptima's Presentation
Our CEO and co-founder, Dr. Maryam Sadeghi, will present the topic "AI in Dermatology" and its implications in our modern world. We will look at the current challenges facing our healthcare systems and why the need for innovative solutions has come now. Then, we'll explore a few examples of the successful implementation of AI in our intelligent dermatology platform, DermEngine, and its smart features like total body imaging and the connected referral network.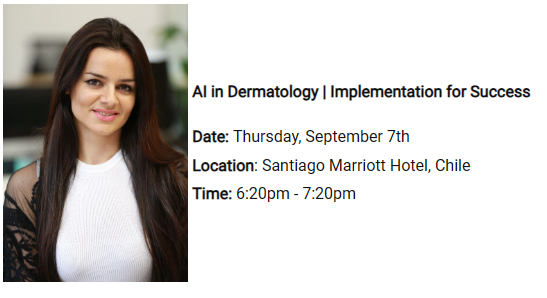 If you are attending the conference, please come say hi to our team! We'd like to ensure we're ready for your arrival by having you fill out a form. Kindly help us by introducing yourself ahead of time so we can get to know you. We look forward to meeting everyone there!
If you'd like to book a time to speak with Majid or Maryam at CLD 2023, please email us at info@metaoptima.com
-The MetaOptima Team
Topics: Dermatology Dermoscopy Artificial Intelligence MetaOptima News & Events