Topics keyboard_arrow_down
Total Body Photography settings are being updated on March 14th in the name of customizability! This week we're excited to introduce a new set of poses alongside customizable body parts templates and the ability to change the order you capture total body images on the mobile app.

Introducing Body Part Poses & Templates
Found under Clinic Settings, your new TBP Body Part experience begins with choosing between one of two pose options for your patients to take while you capture their total body images. From here, you have the option of selecting from Simplified (14 body parts), Extended (30 body parts) or a customizable body part template to best fit your practice's needs.*
*These settings will be the same for all patients across your practice.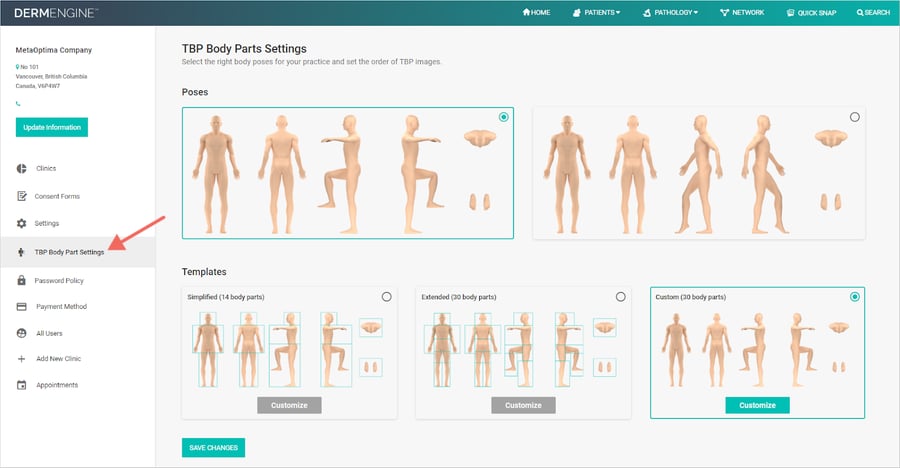 Customizing Body Part Templates & Names
By clicking on the "Customize" button of a template, you'll have the ability to rename, combine and separate body segments to better reflect your imaging preferences. To merge body segments, simply select the two (or more) body parts you would like to combine and click the "Group" button. From here, you'll have the opportunity to enter a name for the newly created body segment. Similarly, you can ungroup one or more body part segments by clicking on it then selecting the Ungroup button.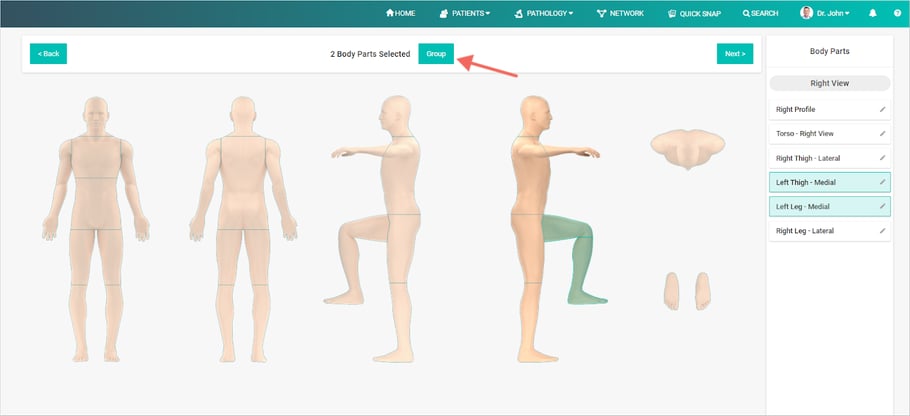 Modify Total Body Imaging Order
By clicking Next, you'll have the opportunity to rearrange the order in which body segments appear when performing Serial Total Body Photography on the app to better match your practice's imaging workflows. As easy as a few clicks, simply drag and drop the body part tiles in the column on the right to move them into your preferred imaging order.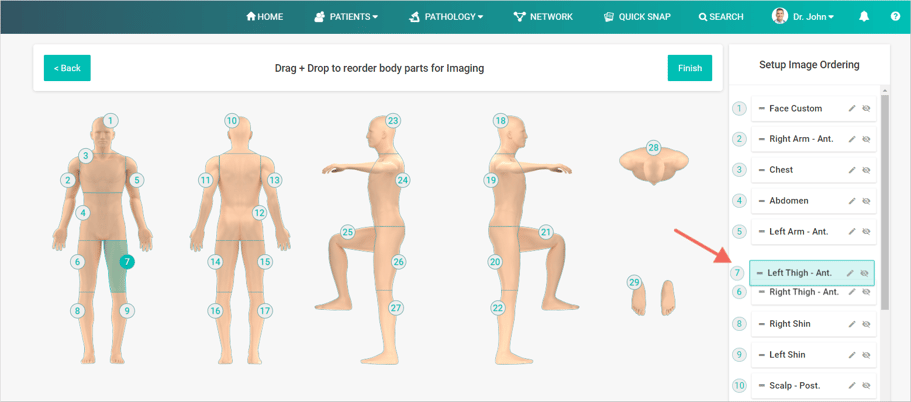 If there are body parts that you don't image in your TBP session, you can exclude them from Serial Total Body Photography on the app by tapping the

. (All excluded parts will be moved to the bottom of the column, and can be re-added by clicking the

icon. Additionally, excluded body parts will only affect Serial Total Body Photography, but are still available to have images added to when needed.)

*It's important to remember that any changes you make will affect all members of your practice, and may affect the assignment of existing Total Body Photography images in your accounts.
-The DermEngine Team
The DermEngine Team has been working hard to develop intuitive solutions that always serve you and your practice to the best of its ability. If you have any questions, comments, or suggestions, we'd love to hear from you!
Topics: Dermatology Dermoscopy Artificial Intelligence Total Body Imaging Total Body Photography Skin Cancer Imaging Teledermoscopy Full Body Imaging Total Body Photography Software Skin Imaging Skin Imaging System