Topics keyboard_arrow_down
MetaOptima is proud to announce the arrival of its latest feature, Visual Search. This decision support tool offers valuable analytics to be used for educational purposes while providing you with deeper insights.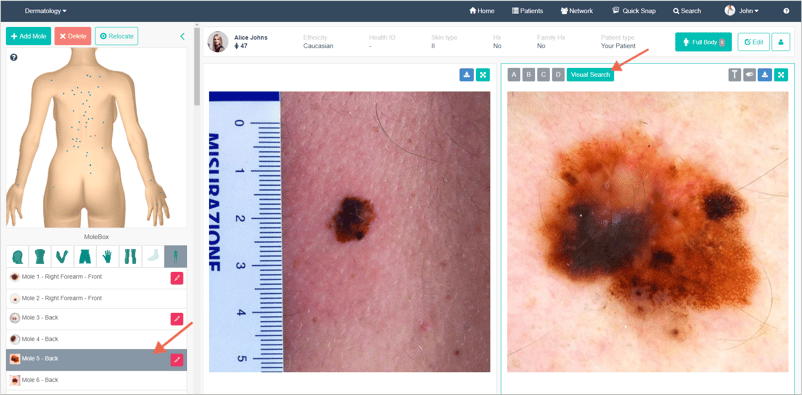 Valuable Analytics
Visual Search utilizes advanced deep learning algorithms to retrieve visually similar images to your current patient case from a bank of thousands of pathology-labeled dermoscopic images. The software will then provide you with statistics relating to the top diagnoses and risk of malignancy of these similar images to allow you to make better informed clinical decisions.
Fuelled by artificial intelligence, this software becomes continuously smarter as more images are added to the database.* This ensures that DermEngine's Visual Search will be able to provide you with continuously enhanced insights when examining patient cases.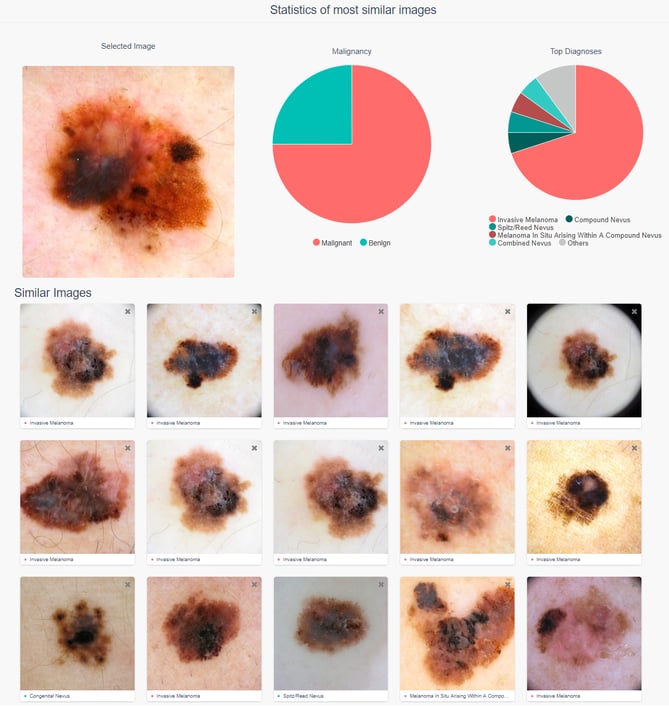 Educational and Research Resource
Visual Search is an excellent research and teaching resource. By offering visually similar images and their top diagnoses and risk of malignancy, this software provides you with a comprehensive understanding about your patient's case. This is an essential educational tool for researchers and medical students to enhance their learning experience. To learn how to use this feature, visit our Knowledge Base at http://bit.ly/DermEngineVisualSearch
Please note that DermEngine's Visual Search is a decision support tool designed for educational purposes only; it does not replace the diagnosis of a trained medical professional.
*The the statistics displayed on the graphs are derived from the top 20 similar images stored in MetaOptima's database. As images are added to our program, the statistical analyses may change.
Topics: Dermoscopy Visual Search Artificial Intelligence Decision Support Tool Teledermoscopy EMR Solutions News & Events