Topics keyboard_arrow_down
We have big news! The entire team is thrilled to announce the release of DermEngine's revitalized Total Body Photography module coming November 30th. Powered by deep learning, our re-designed algorithms let you provide unparalleled care while an upgraded interface minimizes manual input so you can get more done in the same amount of time.

New Interface
Quick and intuitive navigation is essential for efficient workflows. That's why we've updated the total body photography pages with a cleaner look designed to get you where you need to go in less clicks with all the data you need directly at your fingertips.

App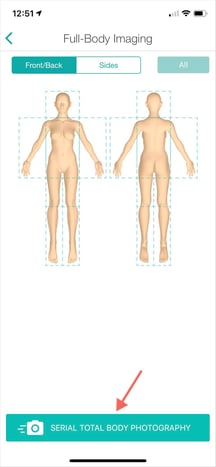 Serial Total Body Imaging
Your new imaging experience starts on your phone. When you go to capture total body photography images, you now have the option of quickly taking multiple body part images with a single tap- perfect for streamlined imaging sessions.

Web Platform
Adding Baseline Images
When you add or upload a total body image, DermEngine's intelligent algorithms will automatically identify all lesions within the image (circled white).You can adjust the number of lesions detected within the image by using the slider, zoom in on a particular lesion with the magnification bar (or with the scroll of your mouse) or add/remove lesions at your convenience.
Mapping Lesions To Body Map
DermEngine allows you to quickly map all of a patient's lesions to their 3D body map so you can move past the desk work to focus on analyzing cases and uncovering deeper insights for streamlined daily workflows.
Step By Step Mapping
Like before, your images will be automatically synced with the web platform, where you'll be introduced to the new and improved Lesion Mapping! You can get started by selecting a body part image, then clicking on a lesion. To map multiple lesions, hold Ctrl (Windows) or Cmd (Mac) and click the + key then select all lesions you'd like to map. Additionally, for iPad users the

button has been added! When tapped, you will be able to select multiple lesions at once for mapping.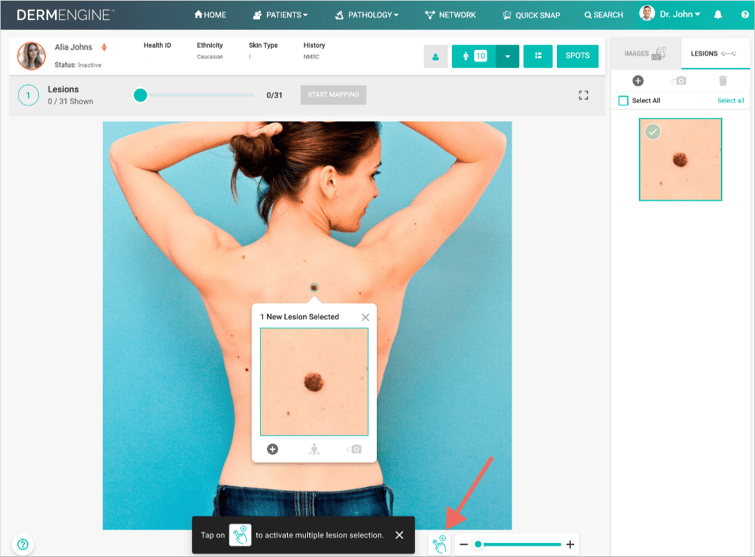 One by one, DermEngine will prompt you to place the corresponding spot on the patient's body map (where you can add a new spot or update a pre-existing one).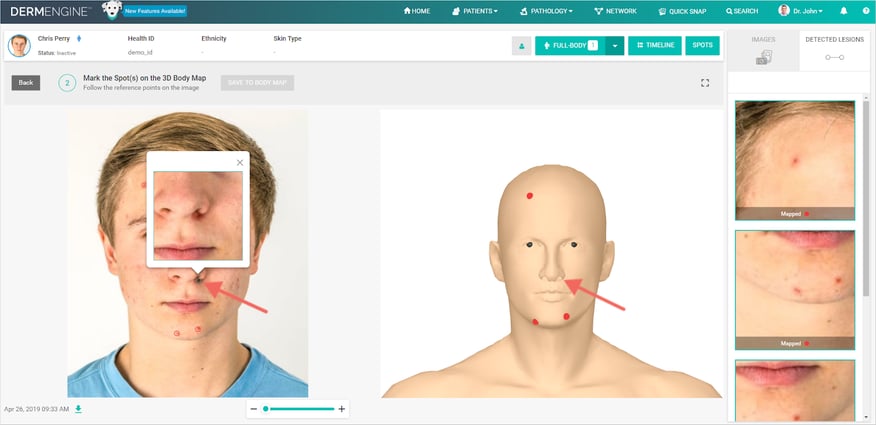 Automatic (Back Images)
DermEngine is excited to introduce an updated automated lesion mapping feature. When you select a back image, the software has the ability to identify and map lesions to the patient's 3D body map- perfect for patients with lots of lesions. As one of the largest body segments, this tool can reduce imaging to a matter of seconds, potentially saving you hours of your valuable time every week. Simply adjust the slider to your preferred sensitivity and click Start Mapping- that's all there is to it!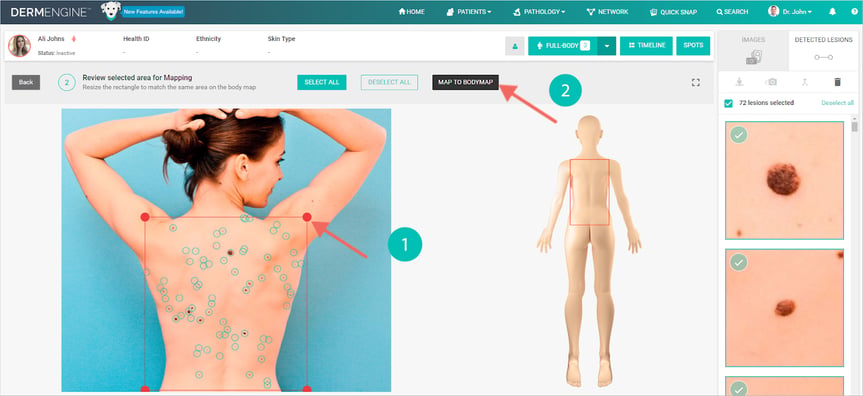 Linking Dermoscopic Images To TBP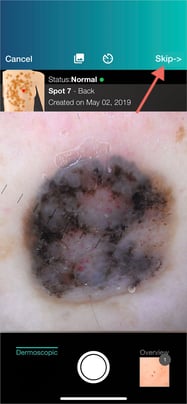 In your practice, connectivity is key. That's why we've re-imagined the way you capture patient images. Once you've uploaded your image(s), you have the opportunity of syncing your mobile device and taking clinical/dermoscopic images directly from the app! Simply select which lesions you would like to image, and you will receive a prompt on your smartphone/tablet (don't forget to be logged into DermEngine) where you can capture quality images in a matter of seconds. As you go along, all photos will be synced with the DermEngine web platform in real-time for a truly seamless experience. During your imaging experience you have the option of taking images from the DermEngine app by clicking the "Take Images On App" button for:
1. Mapped Lesions
Selected lesions will be synced directly with your linked device, where you can add both clinical and dermoscopic images. Make sure your smartphone/tablet is logged into your DermEngine account so it can be paired!

2. Unmapped Lesions
In certain cases, after a patient comes in for a follow up appointment you may notice a new lesion that wasn't there before that you wish to image. Once you press "Take Images On App", you will be directed to first map the lesion on the body map (via the app) before taking your images.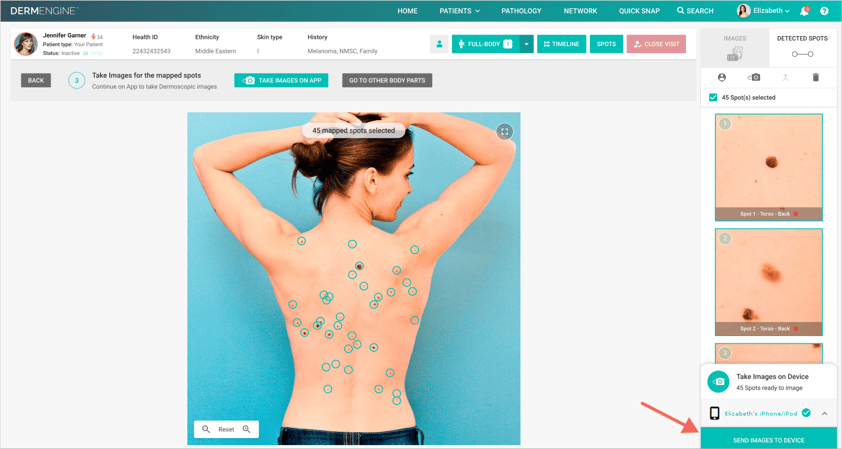 In both cases, all captured images will be synced in real-time with the web platform for a truly seamless experience. By using the app, you can automatically document all of your patient's lesions through a centralized platform while eliminating manual uploads and wait times. From here, you have the ability to view the clinical and dermoscopic images directly within the patient's total body profile.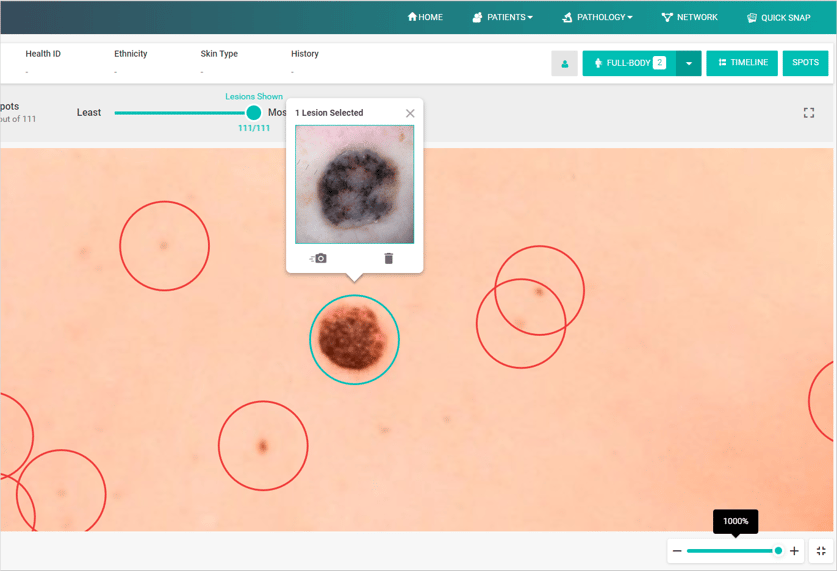 Comparing Images
DermEngine's newly enhanced Lesion Matching tool allows you to identify changes to the skin over time to support the early detection of skin cancer and other conditions. When you add a subsequent total body image, the algorithm will automatically prioritize all lesions based on amount of change.
Designed to help you notice changes over time, detected lesions will now be paired in the viewing column on the right and sorted based on amount of change:
Purple: Change Detected

Blue: Possible Change Detected

Grey: No Change Detected
To help you on your way, you have the ability to review the list and edit DermEngine's suggestions (No Change, Wrong Match, or Take Image). From here, you can use the new "Parallel Pan & Zoom" feature to get a magnified view of the same spot at once for a simplified comparison experience by using the magnification slider or scrolling with your mouse.

Flickering Between Images
Equipped with award-winning AI algorithms, the Flicker tool has become more precise than ever. From the Lesion Matching page, simply click the Flicker button to overlay your two images and "flicker" between them. To help you better notice any subtle changes, you can magnify the image on full-screen mode for maximized clarity.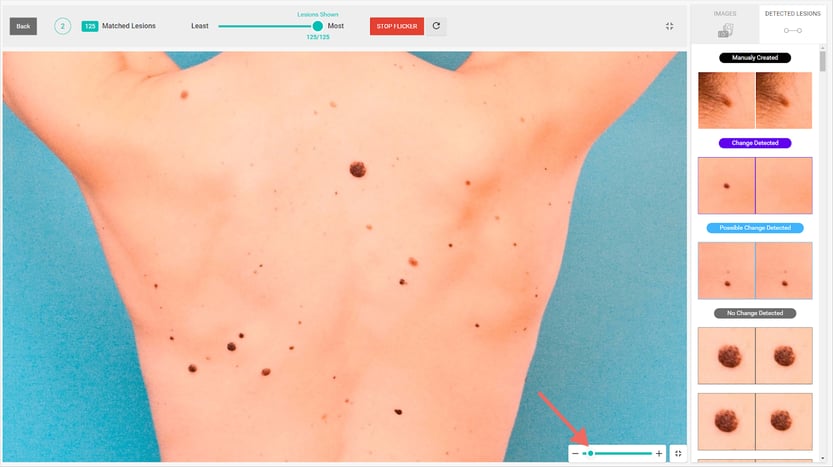 Questions?
This new roll-out couldn't have been possible without all of the helpful feedback from our users- thank you! However, we always recognize there's room for improvement. Do you have any questions getting comfortable with your new total body photography module, or want to take a moment to share your experience? Email us at support@metaoptima.com today!
Topics: DermEngine Artificial Intelligence Total Body Imaging Total Body Photography AI Artificial Intelligence in Dermatology Full Body Imaging Deep Learning Total Body Photography Software Dermengine App serial imaging