Topics keyboard_arrow_down
Introducing Exciting New Features in DermEngine: Customize, Sign, and Simplify
DermEngine is thrilled to announce the release of three highly requested features that further enhance the capabilities of the platform. These new additions enable you to personalize your reports, streamline workflows, and optimize Total Body Photography (TBP) to deliver exceptional patient care. Let's explore these exciting new features in detail:

1. Enable and Disable Annotations on the Timeline Report: Tailor Reports to Your Preference
DermEngine now offers the ability to enable or disable annotations on the Timeline Report, providing you with the flexibility to customize reports. Annotations can include labels or notes made on images during the assessment process or the annotations created automatically when mapping a lesion using TBP. With this new feature, you can choose whether to include or exclude these annotations in the final report, ensuring that the report accurately reflects your diagnostic findings or recommendations.
This feature allows for a more streamlined and concise report, making it easier for providers to communicate critical information to colleagues or referring physicians while maintaining control over the level of detail shared with patients. By tailoring the report to specific requirements, providers can enhance efficiency and improve the overall report-reading experience.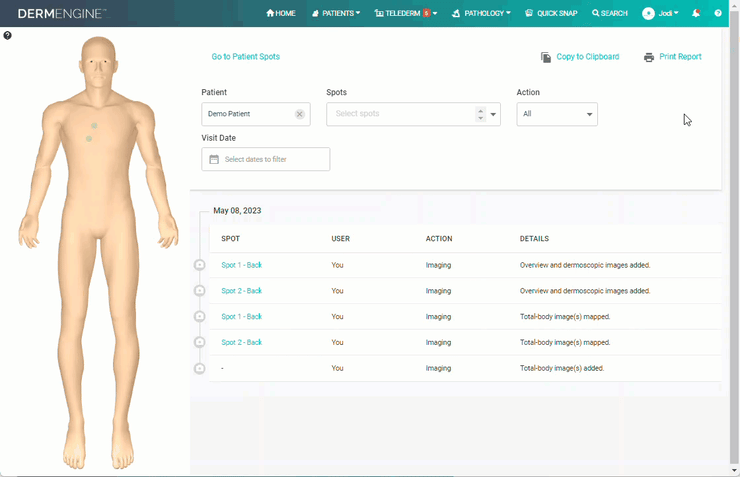 2. Use Your Digital Signature on Reports: Enhance Security and Authenticity
Recognizing the need for secure and reliable documentation, DermEngine now supports the use of digital signatures on reports. Providers can add their own digital signatures, ensuring the authenticity and integrity of the document. This feature provides an added layer of security, allowing for easy verification of the report's origin and authorship.
By incorporating digital signatures, DermEngine helps streamline the documentation process while meeting the highest standards of data integrity and compliance. To get started, contact your customer success representative directly or email us at support@metaoptima.com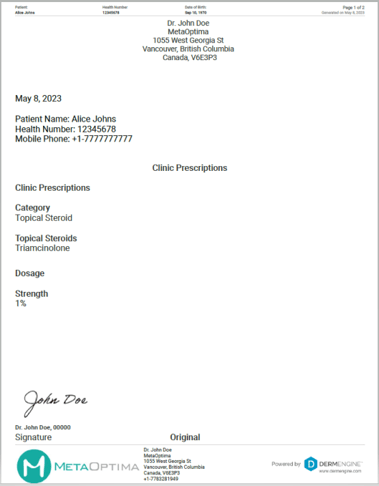 3. Only Show Mapped Lesions using TBP: Focus on Relevant Information
DermEngine has introduced an innovative feature for Total Body Photography (TBP) that allows dermatologists to display only mapped lesions on the images. When reviewing TBP images, dermatologists can now choose to show only the mapped lesions, eliminating distractions and focusing solely on the relevant areas of interest.
This feature streamlines the review process, making it more efficient and precise. Dermatologists can easily identify and assess specific lesions, facilitating accurate diagnosis and monitoring of treatment progress. By reducing visual clutter and enabling targeted analysis, this feature enhances the interpretation of TBP images and ultimately improves patient care.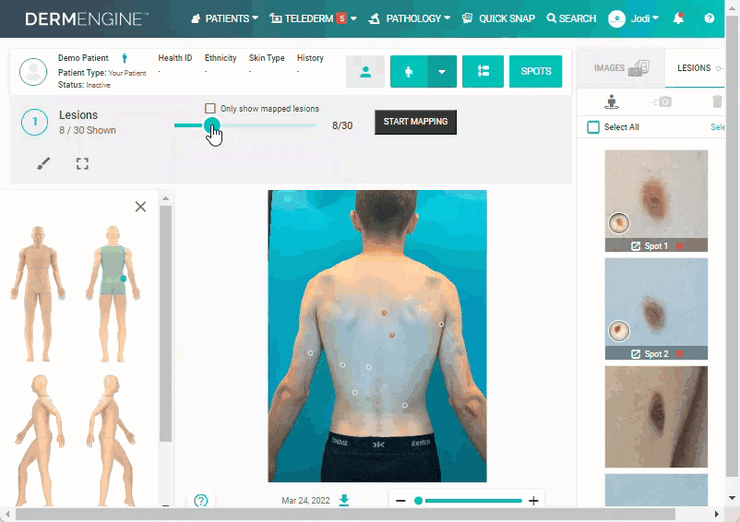 Questions?
We always look forward to sharing these updates with you. If you have any questions or comments about any of our DermEngine features be sure to reach out to us at support@metaoptima.com and one of our experts will get back to you shortly!
-The DermEngine Team
Want to stay updated with the latest improvements to DermEngine? Subscribe to our What's New and never miss a thing!
Topics: Dermoscopy Total Body Imaging Total Body Photography Artificial Intelligence in Dermatology Data Analytics in Healthcare Teledermoscopy Print Report Timeline Dermatology EMR Solution EMR Solutions News & Events Skin Analytics TBP