Topics keyboard_arrow_down
This week the DermEngine Team is excited to announce the new Smart Snap feature. Smart Snap is a faster, easier way to help you capture serial images and assign to spots with the help of DermEngine's AI-based spot recommendation.

Double Your Imaging Workflow Efficiency!
Serial Imaging
Rather than wasting time switching screens to capture additional images, Smart Snap lets you capture several images in one session for a streamlined experience. To get started, select your patient and then tap the

icon on the top. Like before, you'll take your new dermoscopic image, but now you have the option of capturing multiple images by tapping the camera button.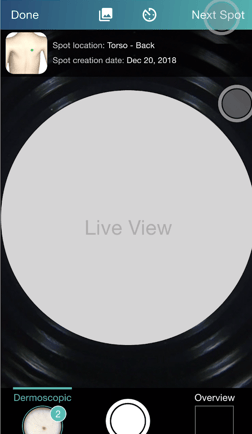 Smart Recommendation
After you capture your first image, DermEngine's AI algorithm will compare it to the patient's existing images to recommend which spot it should be assigned to. Once you confirm it's the correct spot, simply tap Assign. Rather than wasting time trying to find the right spot, Smart Snap helps you locate it in a matter of seconds! After the spot has been assigned, you can add more dermoscopic or overview images to the selected spot, or you can move to the next spot on the patient's body. At the end, you can tap Done to complete the session.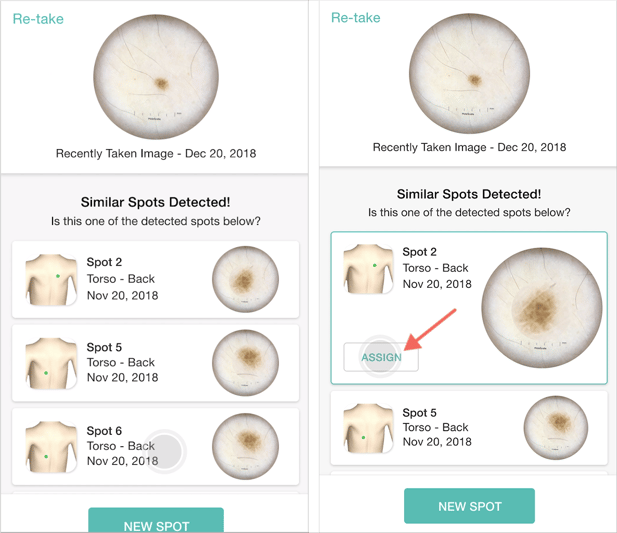 Ready to see Smart Snap in action? Learn how to get started in less than 1 minute with our quick start video!
Still have questions? Email us today at support@metaoptima so we can help you make sure you get the most out of Smart Snap!
Topics: Dermoscopy Artificial Intelligence Teledermoscopy Smart Dermoscopy EMR Solutions News & Events Dermengine App Smart Snap