Topics keyboard_arrow_down
DermEngine is consistently improving with the development of sophisticated tools to support your dermatology practice at every step. Today, our team is pleased to introduce the new Teledermatology Panel!

Harness the power of teledermatology on a single hub
Previously, when submitting a teleconsultation, users would open the +Clinical Diagnosis tab and select the Teledermatology option. From here, they had the ability to add their diagnosis, recommendation, and notes before completing the session. With the new Teledermatology Panel, all of these actions and more have been combined into one page while maintaining access to key information necessary to provide your professional opinion.

Like before, users must first activate their teledermatology services. Once their request has been approved, they can simply click on any of the patients' cases listed under the "Referrals/Submissions" tab on DermEngine's homepage.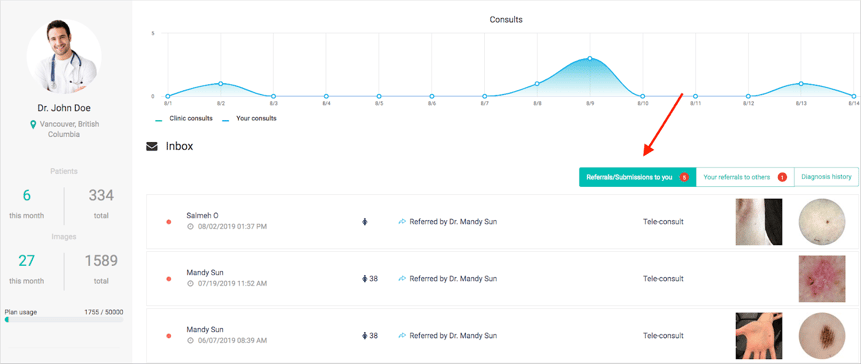 Shifted to better reflect your daily workflow needs, the new Teledermatology Panel offers:
Patient Information:

Maintain access to basic information about the patient

Patient Questionnaire:

Access your patient or colleague's answers to help you make informed decisions with fewer clicks

Image Display:

View and zoom on the dermoscopic image to identify any suspicious evolutions with greater ease

Image Carousel:

Access and scroll through previous images readily available at the bottom of the page

Action Menu:

See the most recent actions for this case
Consultation Form:

Provide your recommendations directly within the patient's profile for a seamless comparison experience

Case Navigation Bar:

Instantly access any outstanding cases for that patient with the arrows for prioritized, expedited care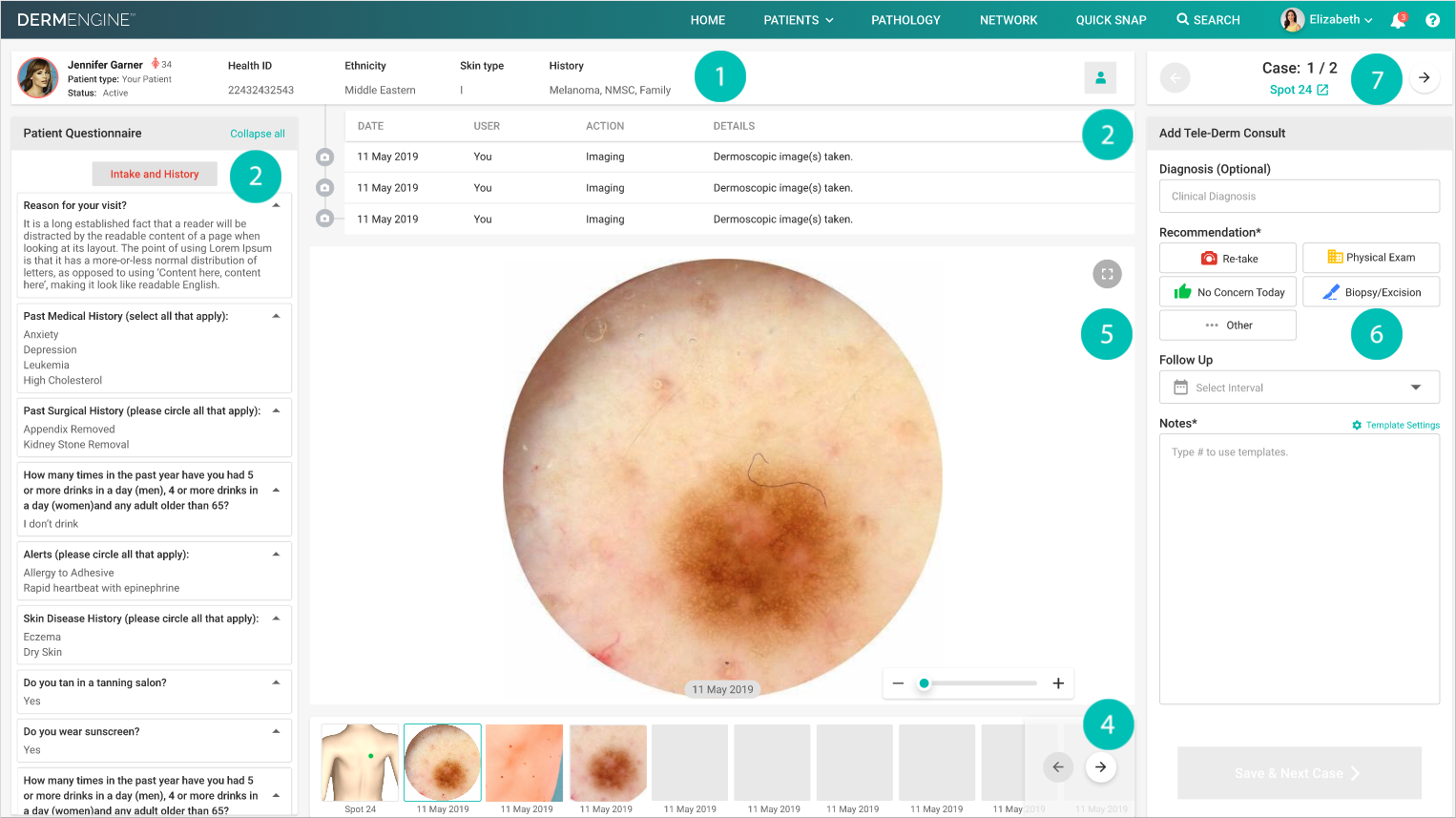 Improve your workflows with greater accuracy and efficiency
Streamline your clinical processes by providing your feedback for every case within a patient's profile in a fraction of the original time; access notes, images, answers, and previous actions in one intuitive dashboard. As the system continues to refine its features, the new teledermatology panel leaves every step of the consultation process at the tip of your fingers. Having control over your workflows has never been more straightforward!

Do you have questions about the new Teledermatology Panel or anything else DermEngine related? Email us today at support@metaoptima.com and one of our experts will get back to you shortly! Want to stay updated on the latest features DermEngine has to offer? Subscribe to our blog today!
-The DermEngine Team
Want to stay updated with the latest improvements to DermEngine? Subscribe to our What's New and never miss a thing!
Topics: DermEngine Telehealth Teledermatology Telemedicine Teledermatology Platform Advanced Teledermatology Teledermoscopy Teledermoscopy Software Best Teledermoscopy