Topics keyboard_arrow_down
Visual Search has been updated! Packed with improvements, we're excited to share how this latest version can better support your clinical decisions with an updated interface, expanded image library, and optimized results.

Designed to support the clinical decisions of our users, Visual Search is an educational resource that retrieves images with similar color, shape and pattern to your images from a database of tens of thousands of images with confirmed diagnoses. As one of DermEngine's most intelligent features, our team is always working on innovative ways to enhance your experience. This week, we are pleased to announce that Visual Search now offers:
New Interface
Previously Visual Search utilized pre-labelled images identified following excision and pathological analysis for its image library. Due to the nature of pathology requests, the majority of these cases are malignant or visually suspicious, resulting in a potential bias in the dataset. As a solution to better fit the variety of dermatology cases, DermEngine now offers tens of thousands of new clinically diagnosed images from a large collection of multi-source dermatoscopic images of common pigmented skin lesions for greater accuracy rates than ever before.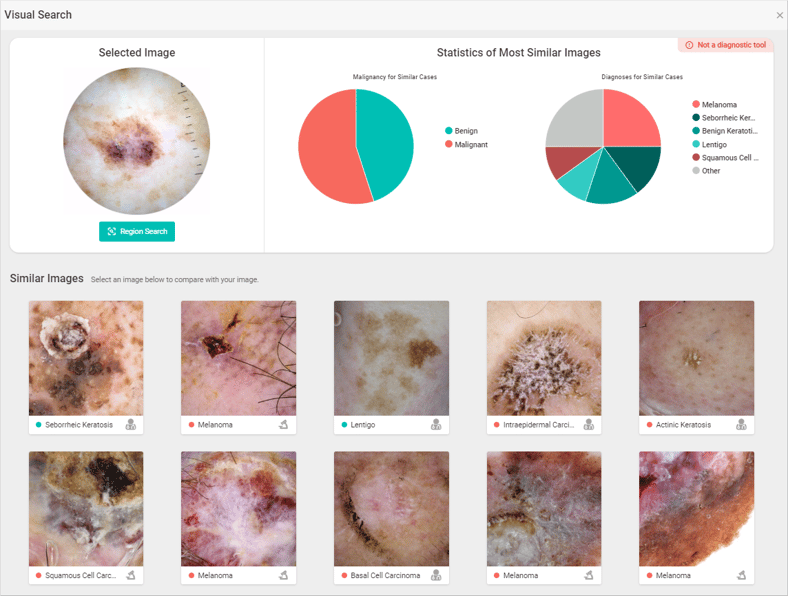 This dataset includes a representative collection of all important diagnostic categories in the realm of pigmented lesions. More than 50% of lesions have been confirmed by pathology, while the ground truth for the rest of the cases were either follow-up, expert consensus, or confirmation by in-vivo confocal microscopy. Together, these images add up to a valuable educational resource powered by deep learning to better support your clinical decisions. To learn more about the training of Visual Search and the utilization of our algorithms please click here.

A Cleaner, More Intuitive Look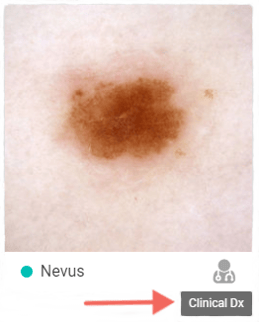 The Visual Search Dashboard has been re-imagined with a simplified look for a streamlined experience. In addition to the visual changes, you'll notice that a Pathology or Clinical Dx icon has been added to each image to provide you with greater insight on your results.

Questions?
We always look forward to sharing these updates with you. If you have any questions or comments about Visual Search, or any of our DermEngine features be sure to reach out to us at support@metaoptima.com and one of our experts will get back to you shortly!
-The DermEngine Team
*Please note that Visual Search is for educational purposes only. The stats depend on the database from which we retrieve the similar images. It is not a diagnostic tool and does not replace the consultation of a trained medical professional.
Want to stay updated with the latest improvements to DermEngine? Subscribe to our What's New and never miss a thing!
Topics: Dermoscopy Visual Search Artificial Intelligence Artificial Intelligence in Dermatology Data Analytics in Healthcare Teledermoscopy Machine Learning Deep Learning EMR Solutions News & Events Skin Analytics