Topics keyboard_arrow_down
The DermEngine team is excited to announce the official release of its Zoom integration this Sunday! Allowing for live video conferencing directly within the platform, medical professionals can connect with patients in real time to become better supported in connecting with their patients from home!
Previously, DermEngine only offered store-and-forward (asynchronous) teledermatology services, which allowed medical professionals to receive overview and dermoscopic images from patients or other care providers while providing their professional feedback.
What To Expect
Now, with the power of Zoom, DermEngine also provides video consultation services for all users through the platform's appointment booking system. Once a patient has scheduled an appointment, a meeting link will be created via your synced Zoom account for you to begin your video call directly within DermEngine.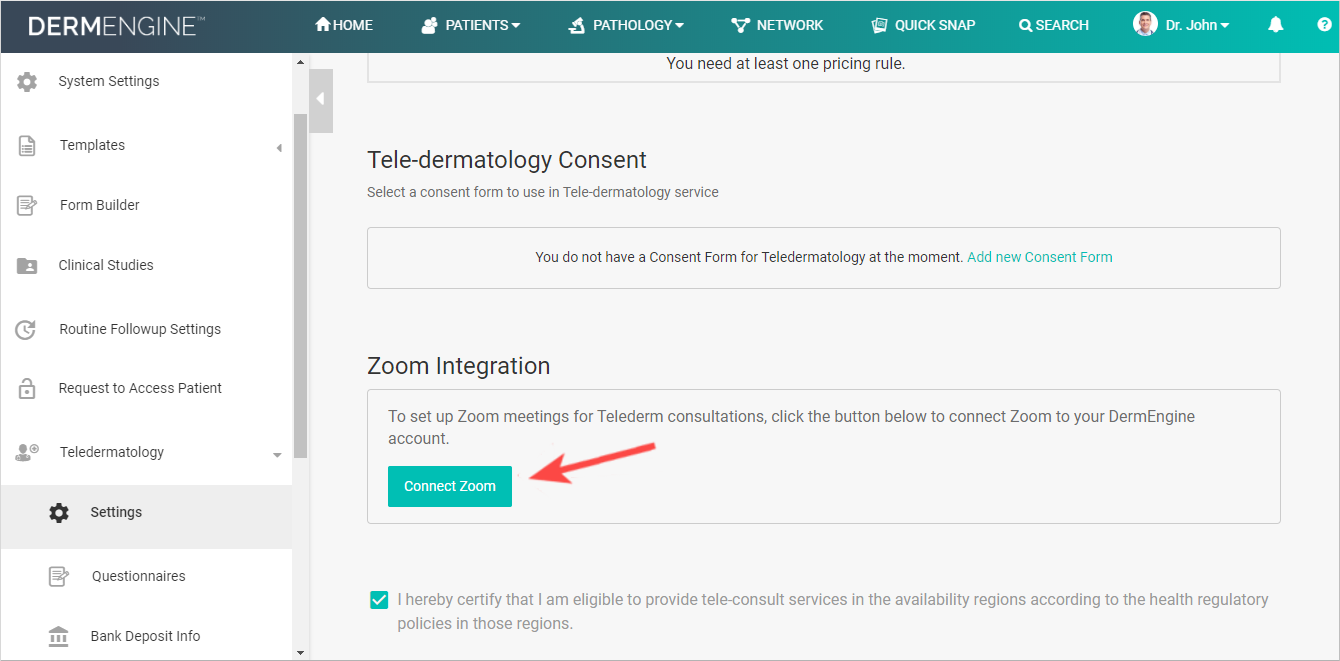 Found under your account settings, you're able to sync your DermEngine and Zoom accounts in just a few quick steps after entering your credentials. Once connected, you'll be able to see a "Join Zoom Meeting" link the next time your patient books an appointment!
In a time where connected care is more important than ever, DermEngine's Zoom integration allows medical professionals to have a conversation with the patient while providing their services, or even utilizing both teledermatology models in unison to help walk the patient through capturing and submitting their images!
The DermEngine team has been working very hard over the past few weeks to equip our users with the tools they need to provide patients with quality, connected care during COVID-19. Would you like to learn more about how you get get your virtual practice up and running? Click the button below and one of our experts will reach out to you today. Alternatively, if you have any questions getting started or feedback about how we can improve the platform to better reflect your current services contact us at support@metaoptima.com today!
-The DermEngine Team

Topics: Tele-medicine DermEngine Tele-Consult Tele-consultant Tele-dermatology Telehealth Teledermatology Telemedicine Teledermatology Platform Teledermatology Services Advanced Teledermatology Teledermoscopy Teledermoscopy Software Best Teledermoscopy zoom