Topics keyboard_arrow_down
In recent years, clinic data analytics has become a growing area of popularity for business intelligence. The value of clinic analytics is projected to skyrocket from $7.39 billion (2016) to $24.55 billion by 2021.1 Research suggests that the driving factors behind the growth in healthcare analytics are the availability of big data, advances in technology, and shift towards value-based care. If the world is moving towards data analytics in healthcare we must ask two questions:
"Data and analytics will drive modern business operations, and not simply reflect their performance."2
Applications
Instead of simply reviewing data as a method for reviewing performance, it will drive business decisions. By using clinic analytics, doctors, businesses and researchers can analyze valuable big data to improve their strategy and improve workflow, thus stimulating growth. Through data-driven decision making, healthcare facilities will be able to "improve operational efficiencies, eliminate preventable costs, and streamline clinical effectiveness."3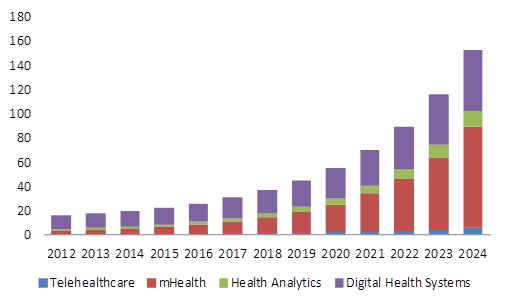 Industry trends suggest that through utilizing big data, the top opportunities for growth include cloud-based analytics, precision medicine and patient registries.4 For example, clinical analytics could help a practice determine the best treatment for patients based on their personal health data. This expands into improved prevention, diagnosis, and follow up care for patients' conditions. Although there are many opportunities, worries over looming costs and operational gaps between providers and payers could prove to be very real challenges.
Obstacles
As promising as clinic analytics is, it will have to overcome notable barriers before it can be successfully implemented as a standard of business intelligence (BI). Notable challenges include:
Inconsistent Adoption Rates




Reports demonstrate that US healthcare providers and payers are adopting analytics at inconsistent rates. In some cases, healthcare systems are using basic reporting tools, whereas others are using the latest data processing systems for patient care.

Misused Data


A recent survey shows that 40% of clinical analytics users concluded that their data was either not very effective or was completely ineffective.5

Lack Of Interoperability


Additionally, this survey demonstrated that 72% of respondents cited clinical analytic interoperability as their largest problem. This was closely followed by difficulty collecting data (62%) and then time demands (60%).


Overcoming Challenges
Like all advances in technology, disruption is an intrinsic part of development.6 Users will have to be trained to properly utilize the data, platforms and systems must be implemented in healthcare workplaces, and these tools must be user-friendly and work within a larger network of healthcare systems.
In order to overcome these barriers, these systems must:
Have widespread usage

Provide meaningful data

Operate as a part of a greater network
Without these three factors, businesses and healthcare practices will be greatly challenged to implement the full potential and value of clinic data analytics. However, some systems like DermEngine (intelligent dermatology software) have recognized these obstacles and needs of physicians, patients, and administrators alike.
Certain platforms have overcome these challenges through having the ability to integrate with clinics' current EMR/PMS software (thus not disrupting previous patient data systems), as well as through providing valuable data. These platforms provide information about the number of patients, images, cases, and even types of diagnoses per clinic, individual, or group of doctors. In addition to being an excellent tool for performance evaluation, it can also be useful for analyzing the number of actions (diagnoses) by clinic location or doctor, as well as top diagnoses over time.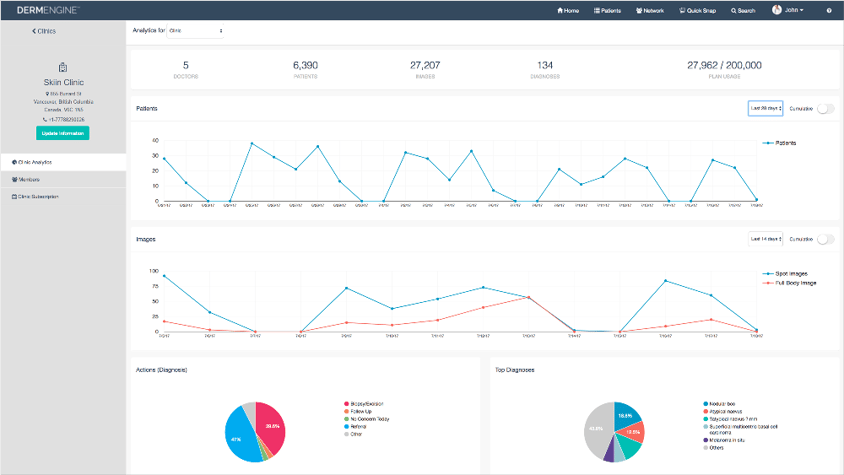 By providing teledermatology services, intelligent dermatology software and analytics dashboard, physicians are able to access their patients remotely, provide affordable consultations, and then gain unique insights from their virtual clinic's data. For example, DermEngine's Clinic Analytics dashboard allows you to:
Receive real time data to identify and prioritize cases

Analyze important information for diagnoses, patients and images

View analytics for your clinic, all providers or individual providers over a selected time period

View top diagnoses and action statistics
The platform's performance tracking capabilities, access to real-time data, connected platform, and simplified data visualization serve as a centralized hub to enhance your business intelligence to improve the workflow behind prevention, diagnosis, treatment, and follow up care. This in turn increases the overall performance of the practice and utilizes the full potential that clinic data analytics has to offer.
Conclusion
In conclusion, clinic analytics is a growing area of need for physicians, clinics and businesses alike. The potential insight gathered from the data provides an opportunity for pro-active business models that drive operations, rather than simply reflect. Before this can become a full reality, the technology will have to move past the initial stage of disruption and be widely implemented by professionals.
Platforms like DermEngine are utilizing this movement to provide intelligent solutions that work intrinsically with other EMR software for a seamless experience. Once analytics platforms are more freely implemented, healthcare professionals will be able to extract valuable information from big data and find unique insight within the data to increase workflow efficiency and allow businesses and clinics to reach their maximum potential.
-The MetaOptima Team
Would you like to learn more about what DermEngine's artificial intelligence (AI) dermatology software? Click the button below.
Sources: