Topics keyboard_arrow_down
The rush and excitement about Medica Trade Fair 2017 has finally begun to settle down. It has been a successful week for MetaOptima and all companies involved at the event over the past week! This was an excellent opportunity for us to meet distributors and discuss the features, benefits, and future applications of DermEngine intelligent dermatology software with potential business customers.
As the world's biggest medical trade fair and supplier market for the medical technology industry, Medica 2017 was an essential event for DermEngine. We are proud to say that our booth was a great success, and the demoing of DermEngine's teledermatology and artificial intelligence-fueled features allowed us to gain new contacts and share how our products can help save lives.
Visitors from over 130 countries!
"MEDICA and COMPAMED have always had a high degree of international impact, and this remains their trump card. Top decision makers from around the world come together here and see the huge breadth of what we have on offer, which is the international front runner and has yet to be beaten"- Joachim Schäfer, Managing Director of Messe Düsseldorf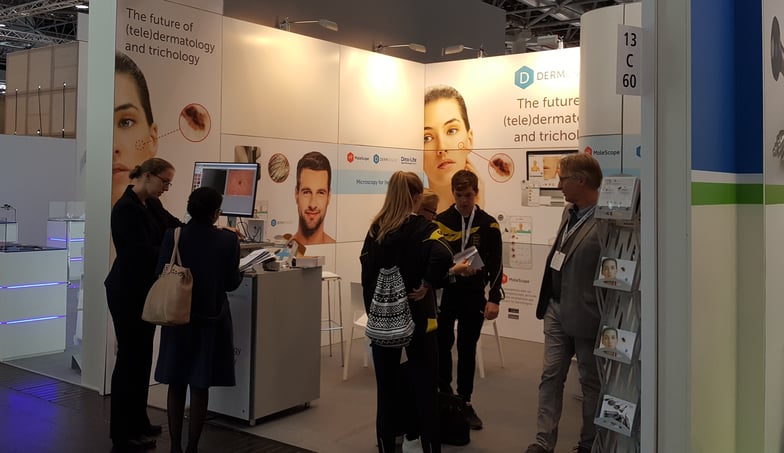 We are excited to have had the opportunity to share the latest features of DermEngine and MoleScope Medica Trade Fair 2017 attendees and look forward to building relationships from our time networking at the event. Would you like to stay updated on MetaOptima's latest news as well as hear about DermEngine's new features before anyone else? Subscribe to our blog below!
-The MetaOptima Team
Are you interested in learning more about how
Trikoscope
is designed to work with DermEngine? Download our brochure today.
Topics: DermEngine Artificial Intelligence MetaOptima Skin Cancer MasterClass News & Events