Topics keyboard_arrow_down
Total body photography is a valuable tool for the early detection of skin cancer, especially in high risk patients. Studies also show that individuals most likely to attend these examinations have an increased risk of developing the condition or have a greater level of education on the topic.1
"Early diagnosis of melanoma appears essential and skin screening, defined as a visual inspection of the whole body, may be one method of achieving it."1
The purpose of total body photography is to capture and refer to a baseline of patient images useful for managing and tracking any potential changes over time. This technique is encouraged to be used in addition to patient self-exams, as they are likely to notice any changes to their own skin. When combined, this method promotes the early detection of melanoma and other skin cancers, especially in cases where dermoscopic features of the lesions may yet to be recognizable.
Rising Skin Cancer Rates
Although cases of melanoma are rising at dangerous rates (10.4% in men and 8.4% in women per year), only 10% of the population have ever taken advantage of total body examination services by a medical professional.1 Additionally, research shows that the U.S. is facing a dermatologist shortage for areas of up to 230 kilometers.2 This suggests that there is an unprecedented need for faster and more effective skin screening through services such as total body imaging to compensate for the unmet needs of patients.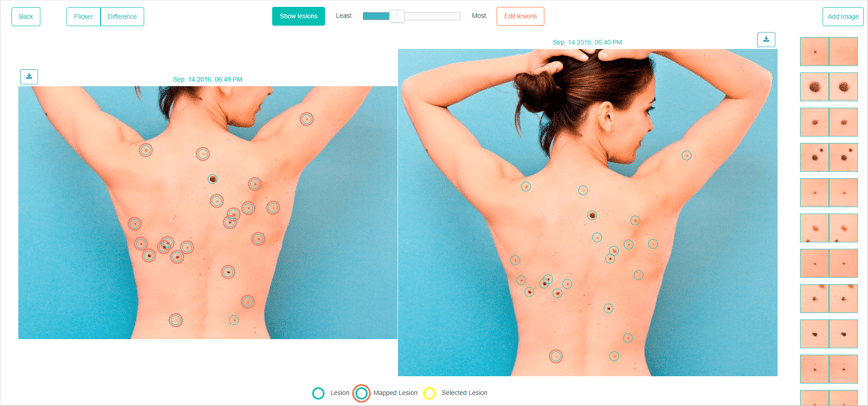 Total Body Photography Services
Total body photography (also known as total body imaging, TBP, whole body screening, or whole body imaging) is the process of taking a set of high quality images of a patient's body parts for lesion tracking, comparing, and monitoring purposes.
This technology holds the potential to provide increased support for dermatologists in the early detection of skin cancers through quick and efficient evaluation of existing spots on high-risk patients.3,4 This allows for medical professionals to reference the sequential images for any new or changing spots in order to simplify the comparison process. However, without the use of an imaging storage system, it remains challenging to properly organize the images for optimized analyses and workflows.

Total Body Imaging System
Although a valuable tool, it is important to recognize that capturing patient body images is only half of the process; these images still need to be properly documented and analyzed to optimize services. Platforms like DermEngine's Full-Body Imaging software are designed to offer medical professionals the latest skin analytics tools to enhance these processes.
The system offers two features do just this: MoleMatch and MoleMap. MoleMatch identifies all lesions in an image and uses advanced algorithms to match the correlating spots between consecutive images. It also allows you to flicker between the images to immediately detect changing or new lesions. Additionally, MoleMap also allows you to map the lesions (or a subset of them) to the patient's personal 3D body map.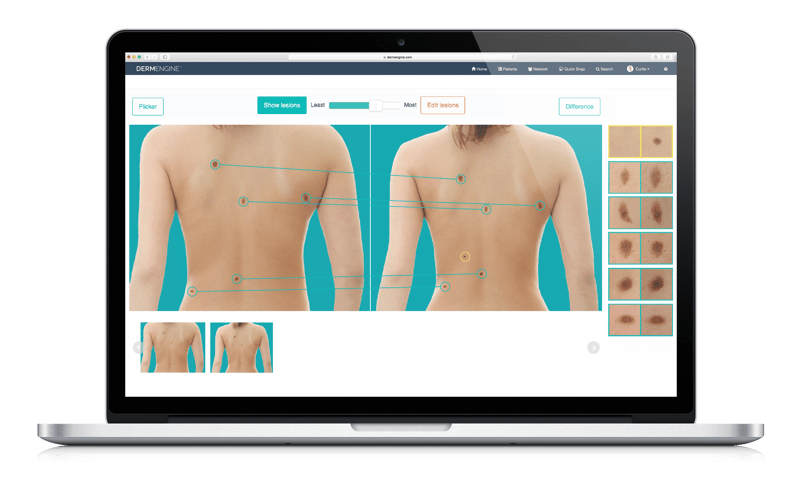 Conclusion
In conclusion, total body photography is an essential tool to promote the early detection of skin cancer with fast and efficient care. This method is further enhanced through the use of Full-Body Imaging platforms like DermEngine, which offer support tools designed to provide medical professionals with a greater depth of understanding and capabilities for the analysis of each patient's case.
Are you interested in learning more about how DermEngine's Full-Body Imaging can accelerate your practice's imaging solutions? sign up for DermEngine's total body photography tools today.
Topics: Dermoscopy Skin Cancer Total Body Imaging Total Body Photography