Topics keyboard_arrow_down
Some of the newest additions to DermEngine we'd like to share with you are the Quick Pathology Request, Pathology Inbox, and Patient Notifications options. You spoke, we listened. These three features were added to DermEngine's ever-growing list of tools to support medical professionals in different areas of their practice where workflows could be streamlined, or information could be digitized and centralized.
+Quick Pathology Request
The first new feature we'd like to introduce to you is the Pathology Request. Entirely digital, you are now able to create a pathology request form within DermEngine to send to your integrated pathology lab for review. This provides the added benefit of linking the patient's spot with the pathology request and lab result when it is ready.
Additionally the document includes a QR code, which lets you quickly access printed reports on DermEngine for increased accessibility and convenience. Interested in connecting your pathology lab to DermEngine? Fill out the submission form here.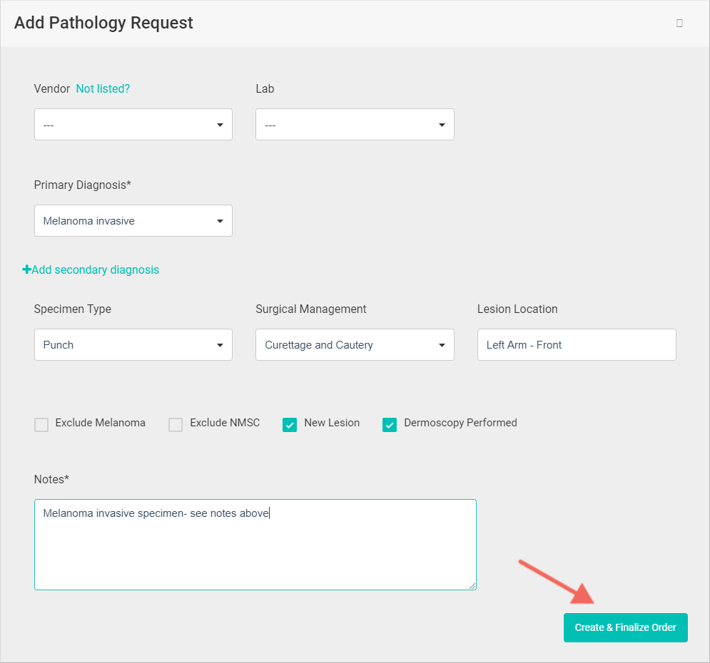 Pathology Inbox
The new pathology inbox page was added so you are able to view all of your pathology requests and diagnoses in a centralized location. You can search in your archive of pathology requests using patient or provider name, current status, request and result dates. Pathologists will have access to the clinical images through this page.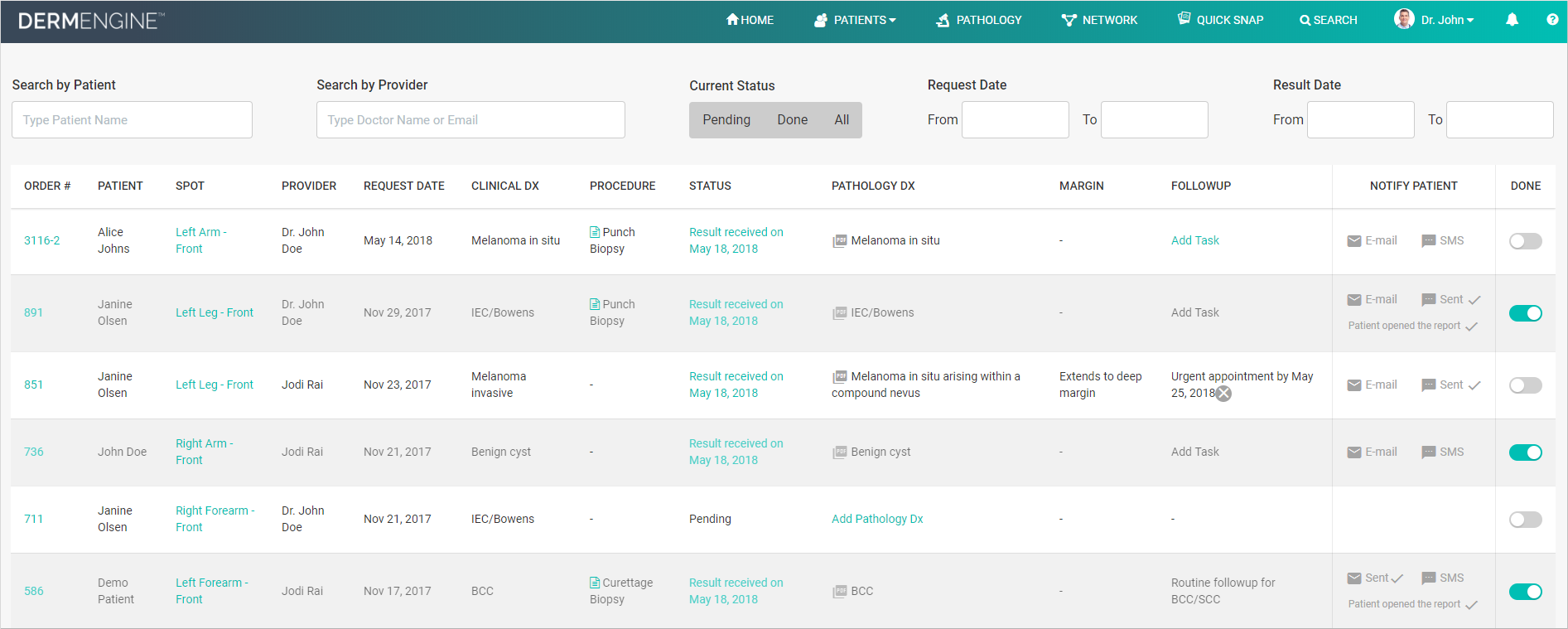 Pathology Results
Once a pathology request has been submitted to your lab, there are two options for how the results can be documented:
DermEngine's new Pathology Inbox allows you to stay connected to your labs through integration with the lab systems. Once the pathology report is ready, you will receive the result right on DermEngine, where it will automatically appear in your Pathology Inbox under the Pathology Dx section.





Alternatively, if your pathology lab is not connected to DermEngine, you are able to manually submit the report by clicking the Add Pathology Dx button.




Communications With Your Pathologist
Once the result is ready, you can communicate with your pathologist right on DermEngine for tricky cases. Your pathologist can see the clinical & dermoscopic images and respond back to you on the secure DermEngine platform. To learn more about how to use Notes as a communication tool, click here.

Once a pathology diagnosis is submitted (either via the pathology lab to DermEngine or manually), you can send a notification to your patient via text (SMS) or email.
To learn more about how to get started using the new features (Quick Pathology Request and Pathology Inbox), visit our Knowledge Base (FAQ) or email us at info@metaoptima.com.

Up next, the second What's New article we will go over the new Timeline and My Activities features, which are designed to help you manage and keep track of your patient's history & your daily activities on DermEngine. Click to learn more about the other new features of DermEngine 3.0 below:
Topics: Dermoscopy Artificial Intelligence Teledermoscopy DermEngine 3.0 Quick Pathology Request Pathology Inbox News & Events