Topics keyboard_arrow_down
In addition to the new interface changes and Pathology Module, our team is excited to introduce the Timeline and My Activities features, which allow you to easily view and search the full history of a patient and your actions in a centralized location.

Timeline
From the Timeline, you are able to review the history of your patients by Action (Imaging, Pathology Request, Procedure Action, Diagnosis, Notes), or Visit Date. There are two ways to view your Timeline.
1. First, you can view a specific patient's history by accessing your Patient list and selecting the Timeline option from the drop-down list.




2. Alternatively, if you are already in their Profile, you can simply select the Timeline option in the top right corner.




Here, you will be able to view the entire history of your selected patient and filter options such as spot, provider, action, or visit date. Based on your preferences, you can select the Details button on the right side to learn more about that specific action.




Additionally, you have the option of downloading or printing a report for your patient records. You are able to filter which criteria you would like to be displayed in the report in the categories of Diagnosis, Pathology, Images, and Image Size.

My Activities
Like the Timeline feature, My Activities is useful for viewing your history on DermEngine. However, instead of it being patient-focused, it is tailored to your daily activities processed through the platform. To access your My Activities, select the My Activities button from your Profile drop-down menu.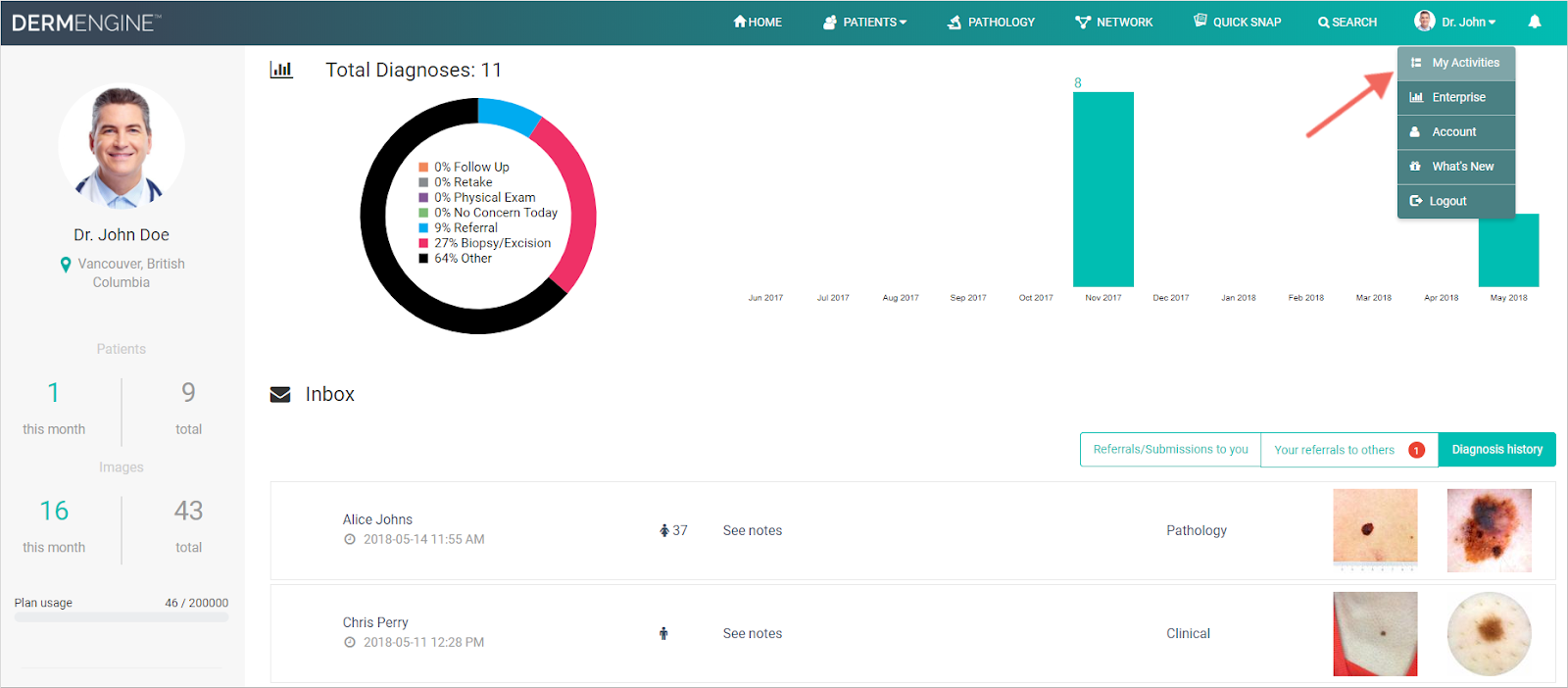 Once on the My Activities page, you will be able to view your history filtered for all or specific actions, visit date, or patient. Note that if you select a patient, your activities will convert to that patient's personal Timeline. Like before, you have the option of viewing additional details about an action by selecting the Details button on the right, or printing a customized report by selecting the Print Report button.




We hope that this What's New has helped you get acquainted with the basics of My Activities and Timeline. To learn more about how to get started, click the links above, visit our Knowledge Base (FAQ) or email us at info@metaoptima.com.

Our fourth What's New will outline the new Procedures feature, which is designed to help you document performed procedures with customizable templates to ensure all of your actions are well-documented for audit and review purposes. Click to learn more about the other new features of DermEngine 3.0 below:
Topics: Dermoscopy Artificial Intelligence Teledermoscopy Print Report DermEngine 3.0 EMR Solutions News & Events