Topics keyboard_arrow_down
In case you have missed the changes in the Teledermatology section:
Introducing the Teledermatology Dashboard on D
ermEngine
We are excited to introduce the tele-dermatology dashboard on DermEngine. Our goal at MetaOptima is to take your practice to the next level. With that mission in mind, today we are excited to announce that now, physicians can provide their services electronically to their current patients as well as external or potential ones.
In this article, we'll give you a quick tour and, walk you through the features of this extended section.
Overview
Now, physicians can provide their tele-consult services (store & forward) to their patients electronically. DermEngine made teledermatology easier than ever! But don't take our word for it; Activate your tele-consult service and start receiving and reviewing patient cases and providing your opinion just with a couple of clicks.
To begin, from your homepage, click on your name on the top right corner of the menu and choose Account from the dropdown.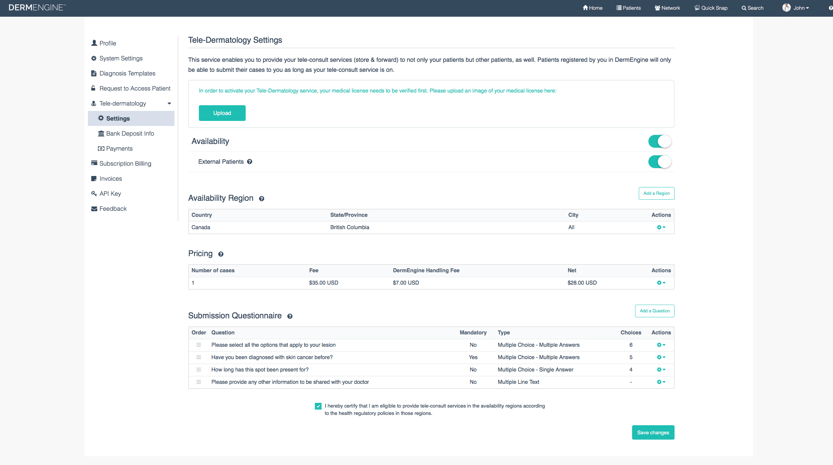 Availability
As you may have noticed, you can provide your services to your existing patients who you have already registered in your clinic on DermEngine. In this case, when your patients use the MoleScope app to electronically send their cases for your review, you will be the only doctor that they will be able to submit the case to as long as your service is enabled.
You may also choose to open your services to external patients who are outside of your clinic. In this case, when patients attempt to submit cases, your name will appear among other physicians on the list to be selected for tele-consult services.
Availability Region
This feature enables you to easily set the regions you will accept external patients from for tele-dermatology. Please make sure your medical license is eligible in the specified countries and states/provinces.



Pricing
In this section, you can set a list of prices for one or multiple case submissions. Currently, you are only able to charge per case but bundle pricing will be supported in future.

Submission Questionnaire
If you would like to have patients answer a few questions about the case with their submission, you can set them here. This feature enables you to easily create a list of text or multiple choice questions, set them as mandatory or optional and order them as needed.
And it looks like this :

Bank Deposit
In this section, you would be able to setup your bank information for automated payments (direct debit). In the following countries, an automated payment processing is in place. In other countries, the collected fees from tele-consults will be manually transferred to your account on a monthly basis. We will contact you to coordinate the monthly payments if your country is not listed below.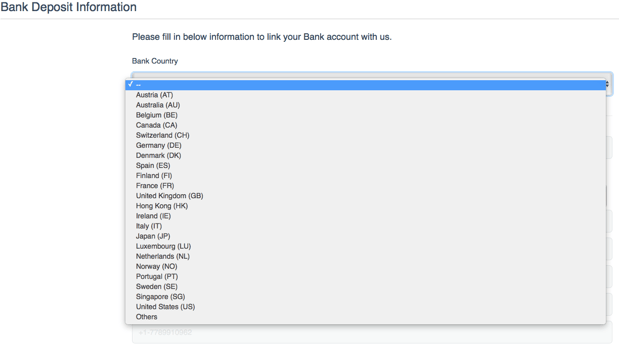 Tele-Consult Payment Summary
Here, you can review the date, net amount and the status of each transaction that has been made to you for your tele-consult services. You will be able to save a copy of this report as a PDF or print as needed in the near future!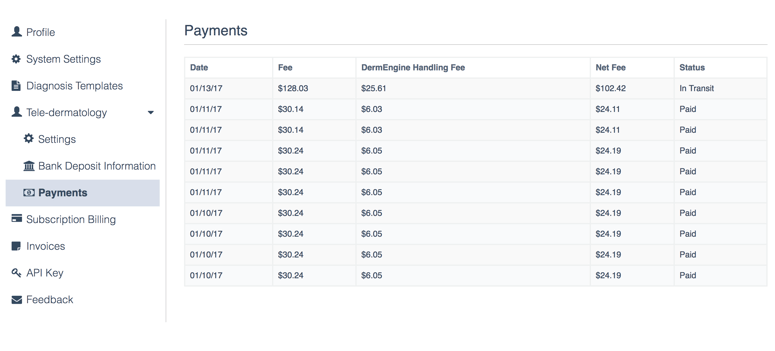 Topics: Dermatology Dermoscopy Tele-dermatology Teledermatology Teledermoscopy EMR Solutions News & Events