Topics keyboard_arrow_down
AI in Healthcare and Dermatology
Advanced technologies, such as machine learning and natural language processing, have the potential to enhance diagnostic accuracy, increase efficiency, and improve patient care. Some companies have already implemented these technologies today. We've created an intelligent dermatology software to help medical professionals with their workflow. Let's look at how these advanced technologies are used to improve diagnostic accuracy, operational efficiency, and patient care.
Enhanced Diagnostic Accuracy
AI algorithms demonstrated high accuracy in interpreting medical images, such as mammograms, CT scans, and retinal images (Shen et al., 2019). Some AI systems can detect abnormalities and assist radiologists in making more accurate diagnoses. In fact, one study showed Google's convolutional neural network (CNN) outperforming a group of 58 dermatologists in diagnosing melanoma (Haenssle et al., 2018).
In our technology, we utilize something similar in a feature called Visual Search, which acts as a clinical decision support tool. Our AI algorithms analyze a collection of ever-increasing images with each confirmed diagnosis and attached labels. The software gives dermatologists specialized data analytics, such as the statistics of malignancy in other similar cases. This evidence-based data supports dermatologists in their clinical decision making by providing additional insights to improve accuracy and confidence in their diagnosis.

It is important to note that while these tools help enhance the efficiency and accuracy of diagnoses, the final decision and diagnosis should always be made by a trained healthcare provider.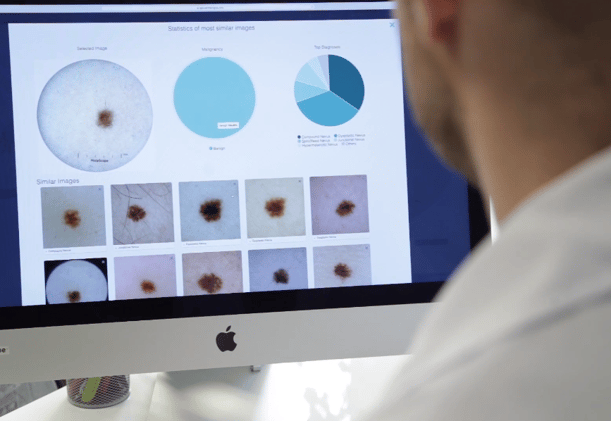 Increased Efficiency
The potential for AI to increase efficiency in a healthcare setting is largely significant due to its ability to automate time-consuming processes. In fact, there are AI tools currently being used in the healthcare industry for task management, process optimization, and administrative efficiency (Glover, Li, & Pachamanova, 2022). With physicians spending nearly half their day doing documentation, this can greatly return the time taken away from patient care (Young, 2016).
Our technology, DermEngine, takes it a step further with its intuitive software designed for workflow efficiency in dermatology where imaging and documentation can be cumbersome. Features such as SmartSnap, MoleMatching, and the Evolution Tracker are helping dermatologists be more efficient in their everyday tasks.
SmartSnap – this feature analyzes the photo taken to suggest which existing spot profile it belongs to, saving clinicians time from scrolling through previous photo sets

MoleMatching – when capturing a follow-up photo, this feature will automatically compare the last taken photo and analyze the matching pair of spots for any changes

Evolution Tracker – playing this feature will present a slideshow of all taken photos of a single spot to see its evolution of change
Because DermEngine is a cloud-based EMR, it is regularly updated to include the latest features of a simple, intuitive, connected system. If you always want to know about our latest update, consider subscribing to the DermEngine What's New blog.
Improved Patient Care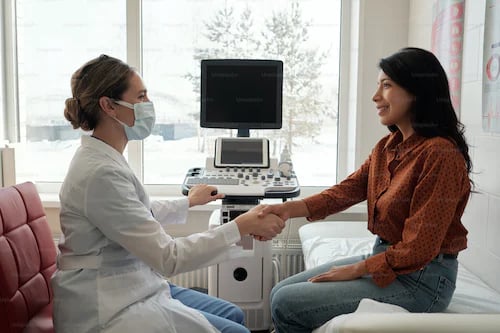 Quality patient care is of the utmost importance in healthcare as it directly impacts the well-being and outcomes of our patients. This starts at the beginning with triage, which is the initial process of sorting and prioritizing patients based on urgency and other factors. Quality patient care needs effective triage since it determines the order of each patient and the care they will receive.
Traditional methods like paper-based documentation are time-consuming and prone to errors. eTriage, or digital triage, streamlines the process by digitizing patient information and automating the collection of symptoms and medical history. Now, we can expedite quality care and prioritize the urgent cases, which can sometimes take months to book a specialist. By using AI to identify urgent cases, eTriage can lead to improved outcomes, timely interventions, and saved lives.
Similarly, DermEngine utililizes teledermatology and a constantly connected patient portal where patients can submit their own photos and wait for feedback remotely. This can also expedite quality care or move through non-concerning cases quicker to reach those requiring urgent care. Patients can do this using a mobile dermoscopy, like the MoleScope or Skin App, which are connected to DermEngine's platform. When a photo is submitted to the portal, the dermatologist also has the option to share it with his/her network to get a second opinion and give the patient more peace of mind.
Final Thoughts
By embracing the potential of AI, we empower dermatologists to deliver the highest quality of care possible and strive for better patient outcomes and a more efficient healthcare system. Our advanced tools and features enable them with an optimized workflow so they can manage their time and dedicate more to each patient.
Want to learn more about the all-encompassing software solution designed for dermatology? Request a demo with one of our experts and see how DermEngine can enhance your practice.
-The MetaOptima Team
Sources
1. [PDF] Artificial Intelligence Versus Clinicians in Disease Diagnosis: Systematic Review | Semantic Scholar
2. Man against machine: diagnostic performance of a deep learning convolutional neural network for dermoscopic melanoma recognition in comparison to 58 dermatologists - Annals of Oncology
3. The AI-Enhanced Future of Health Care Administrative Task Management | NEJM Catalyst
4. Half of Physician Time Spent on EHRs and Paperwork (jwatch.org)
Topics: Diagnosis Artificial Intelligence Advanced Dermatology AI In Healthcare Intelligent Dermatology Software EMR Solutions eTriage