Topics keyboard_arrow_down
In recent years, teledermatology has grown in size, demonstrating benefits for medical professionals and patients alike.1 Teledermatology is a form of telemedicine that is used by dermatologists to connect with patients for the diagnosis and treatment of skin diseases. Its wide variety of applications such as consultations with a new dermatologist or a follow up visit with your existing dermatologist allow it to be versatile and convenient.2
Teledermatology's continued development has also positively impacted the accessibility and speed that patients are able to receive their care, while reducing unnecessary in-clinic visits.3 To understand what teledermatology has to offer, we must first review its current applications and where it will have the greatest impact.

Time Management
In addition to reducing clinic visits, teledermatology also provides a solution for long wait times for patients. Research shows that the minimum wait time for a dermatology appointment in Canada is four months, with some spanning up to two years.4 In contrast, teledermatology responses can take less than a week.5 This allows doctors to provide care to a greater number of patients as well as drastically decrease wait times.
In 2016, one of the largest concerns cited by physicians was organizing and accessing various forms of medical data. Studies show that 49.2% of a doctor's time is dedicated to desk and EMR work.6 Rather than focusing on patients' medical needs, the majority of the time is dedicated to documentation and organization. Considering that waiting to see a dermatologist can take months or even years, this demonstrates that there are significant challenges in dermatologists' workflow.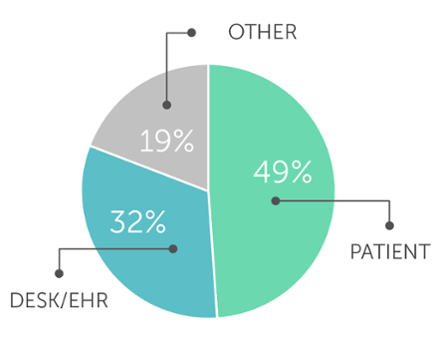 Efficiency
In addition to time management concerns, places like Canada are experiencing a shortage of dermatologists, with only 600-700 treating more than 30 million people.
7
These dermatologists are in extremely high demand; one study shows that approximately 555 people are diagnosed with skin cancer in Canada every day.
8
This is creating a struggle for medical professionals to provide the proper quality of care in the timely manner that patients need. There are, however, practical solutions designed to combat the concerns surrounding doctors' workflow and patient management.

Intelligent dermatology platforms like DermEngine are addressing these challenges by creating software that organizes patient data, provides smart skin analytics features, and has teledermatology capabilities. This intelligent dermatology software allows medical specialists to receive images, as well as organize and store them in a secure and efficient manner. It also allows dermatologists to provide teledermatology services if the feature is available in their region. Instead of searching for information through various storage systems, the dermatology platform keeps patient data securely and conveniently stored in one place so doctors can focus on patient care.
Conclusion
Many researchers and physicians agree that "The need for face-to-face care will always remain for some patients" (PMC, 2010).10 Although teledermatology cannot replace visits with a dermatologist, it is a valuable step towards reducing unnecessary in-clinic appointments. The technology's affordability, speed, and accessibility are all key features as to why it is experiencing rapid growth. Since 2014, the market value is projected to soar from $14.3 billion to $36.2 billion in 2020.11 Although it is impossible to predict the future of teledermatology in its entirety, it is clear that it has the potential to permanently change the way that doctors manage their workflow and provide patient care.
-The MetaOptima Team
To learn more about how DermEngine's intelligent dermatology software variety of features keep you connected to your patients and colleagues, click here.
Sources:
Topics: Tele-dermatology Teledermatology Teledermatology Platform Teledermatology Services Advanced Teledermatology Teledermoscopy Intelligent Dermatology Software Teledermoscopy Software Dermatology EMR Software