As teledermatology services have gained popularity in recent years, so has the software's benefits. Built on a foundation of streamlining care and increased accessibility, teledermoscopy services such as DermEngine have become a popular example of a service designed to alleviate some of the many pressures found in the dermoscopy industry (such as dermatologist shortages and long patient wait times).
Reduces costs
One of the largest benefits of teledermoscopy services (in addition to allowing for potentially life-saving care) is its cost efficiencies. For example, one report study found that implementing store-and-forward dermatology services saved $17,000 over the course of a three-year period for nearly 250 patients. This alone can have a monumental impact on the healthcare system; at a larger scale this could save hundreds of thousands (if not millions) of dollars that can be put towards other areas in need of financial support.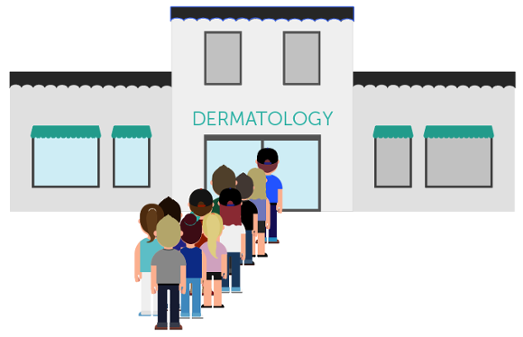 Saves Time
Another beneficial factor of teledermatology platforms are it's ability to save time for medical experts and patients alike, with one case study noting that the use of teledermoscopy services reduced the number of unnecessary in--clinic visits by ~74%. Going beyond the simple convenience of this concept, this saved time results in having dermatologists having more time to provide care for other patients or reduce wait times in general.
Additionally, due to the fact that skin cancer early detection is essential to survival rates (for example, survival rates of 98% versus as low as 16% for cases left undetected until later stages of melanoma) teledermoscopy is able to provide patients with virtually immediate care. This in turn results in the potential for cases to be detected in earlier states leading to further reduced follow-up visits and treatment costs while saving lives.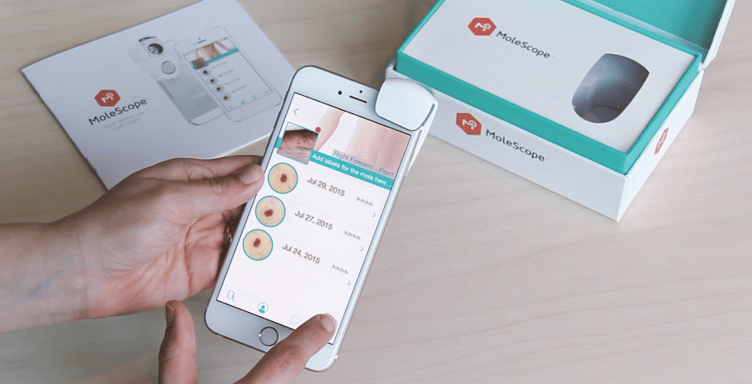 Increases Patient Engagement
A third and final benefit of teledermoscopy services often overlooked is its ability to keep patients engaged in their skin health plan. By equipping patients with user-friendly mobile dermoscopes such as MoleScope they are empowered to take skin imaging into their own hands. By using the free associated app users can run guided monthly skin checks, ABCD tests, and send the images to a dermatologist in their area (if available) for a quick review. In doing so, patients learn to recognize the signs of skin cancer and become actively involved in maintaining their skin health and ensuring that any suspicious moles are send for feedback immediately and securely for optimized care.
Conclusion
By offering a wide variety of benefits including cost efficiency, streamlined workflows and increased patient engagement teledermoscopy is quickly becoming the new standard of care in advanced dermatology services. As a result, patients receive faster care with greater chances for early detection while dermatologists are empowered to focus on a wider number of cases and reduce unnecessary visits.
-The MetaOptima Team

Would you like to learn more about the latest tools in dermoscopy and how they can support your practice?? Download the brochure below!