Topics keyboard_arrow_down
The dermoscope offers a wide variety of benefits to dermatologists and other medical professionals. Proven to enhance diagnosis accuracy, the dermatoscope is an essential tool in any dermatologist's practice. In recent years, a new type of dermoscope has been introduced to the field of dermoscopy: the mobile dermoscope. Equipped with the latest imaging tools, mobility, and affordability, this article outlines the top 8 reasons dermatologists are upgrading to the newest mobile dermoscopes available.
1. Portability
Designed to attach to a wide variety of smartphones and tablets, mobile dermatoscopes are designed for ultimate portability. The lightweight and small design ensures medical professionals are able to take their dermatoscope wherever they go. This is especially important for dermatologists who actively move between multiple practice locations.
2. Enhanced Imaging
Due to the fact that mobile dermoscopy is reasonably new to the market, many of the devices are already equipped with the latest tools and imaging capabilities that dermatoscopy has to offer. For example, mobile dermoscopes such as MoleScope II offer cross-polarized lighting, interchangeable contact & non-contact lenses, and are optimized to work with your phone's magnification caps for enhanced image quality.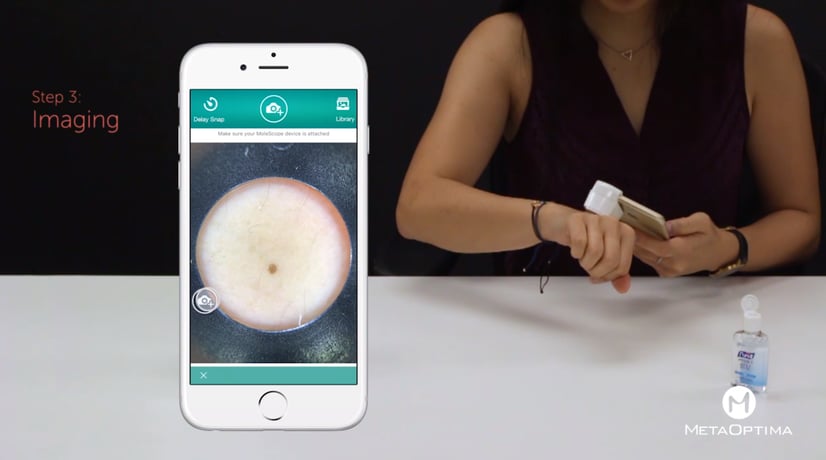 3. Affordability
Many dermoscopy devices cost upwards of $600 and require the purchase of additional attachments or batteries for continued use. In contrast, mobile dermoscopes start as low as $299 and include all accessories, such as interchangeable imaging caps, charging cords, or alternate attachments.
4. Extended Patient Accessibility
With the introduction of mobile dermoscopes has come a new area of skin imaging. Due to their portability, affordability, and intuitive nature, companies have started to introduce patient-oriented digital dermoscopes in addition to their professional lines. Studies are already demonstrating that patients find the devices easy to use, and encourage a greater level of engagement in their skin health.

5. Promotes Teledermoscopy
Building on point 4 above, by empowering patients with high-resolution imaging tools they are now able to take medical-grade quality images of their skin to send to their dermatologist for a streamlined consultation via teledermoscopy. This works in favor of both the patient and the doctor, as it increases accessibility to affordable health while reducing unnecessary in-clinic visits and imaging times.
6. Optimized Workflows
Due to their ability to work with smartphones, mobile dermoscopes are designed to seamlessly connect to intelligent dermatology software such as DermEngine. This streamlines workflows by eliminating the time needed to capture images, save them to a computer, then upload them to a traditional dermatology EMR software.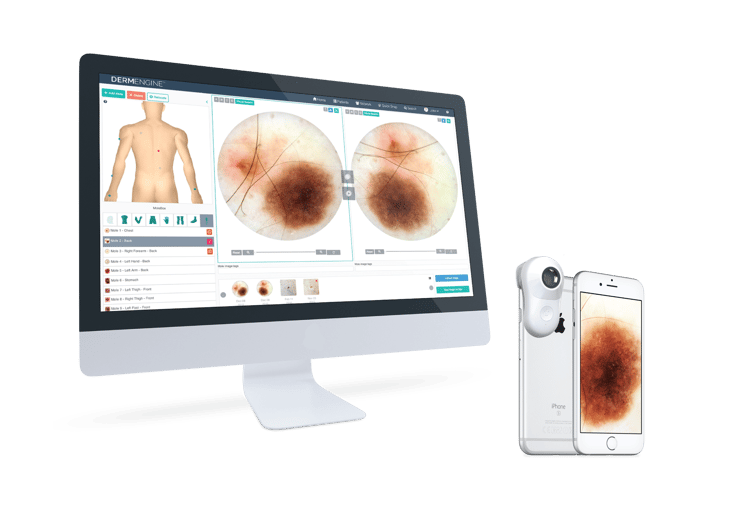 7. Support Your Practice
In addition to optimizing workflows, medical professionals are able to gain access to a wide variety of tools to support every aspect of their practice, including but not limited to teledermoscopy services, total body photography, clinic analytics, and clinical decision support tools powered by artificial intelligence (AI).
8. Centralized Solution
By utilizing each one of the 7 points listed above, medical professionals are able to gain access to a dermoscope that provides more than just imaging; it creates a centralized solution for all portions of workflows while streamlining processes and encouraging patient engagement while offering the latest in imaging features.
9. Reduces Unnecessary Biopsies
Mobile dermoscopes are able to reduce the number of benign lesions excised to the increased rate of accuracy. This saves the patient recovery time and money, and saves the physician valuable diagnosis and follow-up time that can be directed to other patient cases.
10. Non-Invasive Technique
Dermoscopy is a non-invasive way to examine the skin, hair and nails. Patients can receive a professional skin exam in a few minutes with no pain, with the result of increased rate the early detection of skin cancer for survival.
Conclusion
Dermatoscopy tools are being designed with visionary dermatologists in mind. New mobile dermoscopes are portable, affordable, offer the latest imaging features and can potentially increase patient-dermatologist accessibility. Additionally, digital dermoscopes such as MoleScope provide various models for the differing needs of medical professionals versus patients, and connect seamlessly to intelligent dermatology software such as DermEngine for an optimized practice experience.
Topics: Dermatology Dermoscopy Dermoscope Dermatoscope Teledermoscopy Dermatoscopy Mobile Dermoscope Mobile Dermoscopy Skin Cancer App