Topics keyboard_arrow_down
A digital dermatoscope (also known as dermoscope or microscope) is an essential tool for providing patients with optimized patient care, and high resolution imaging to better track any changes and promoting the early detection of skin cancer and other conditions. However, there are strict criteria and enhancements which allow a mobile dermatoscope to truly enhance a medical professional's practice. This article will focus on some of these qualities while discussing their roles in imaging quality, convenience and interoperability.
1. Polarized & Unpolarized Lighting
All dermoscopes must provide a method for eliminating glare created by the skin. In order to capture high quality images with an unpolarized device, medical professionals must apply a liquid media to the skin. Disadvantages of this method are that applying a gel can prove challenging in many patient cases (eg. significant body hair), must be cleaned up after each imaging session, as well as requires an additional step in the skin imaging process when studies show that dermatologists are already overworked.1
In contrast, a polarized dermatoscope offers specialized lighting which automatically eliminates the glare created from the reflection of the skin, and thus removes the need for the application of a liquid medium to the skin for each imaging session. Although studies have demonstrated that neither is necessarily superior for imaging, they may in fact compliment one another.2 2. Contact & Non-Contact Imaging
In addition to lighting, contact & non-contact imaging are essential qualities which will determine how the digital dermoscope can be used within your practice for tasks such as skin cancer screening. Contact dermoscopy allows for higher quality images, as the device is pressed against the skin, and is beneficial for the majority of patient cases.
In contrast, although non-contact imaging cannot provide as high quality of images, the device allows dermatologists to capture images that a standard contact imaging stereoscope could not, such as for open wounds or raised lesions. Therefore, it is essential to have a device that is capable of both functions to provide the widest variety of skin imaging capabilities.
3. Affordability
A third essential quality of a dermatoscope is its price point, as devices can range upwards of $1,000 USD.3 Since it will be a tool used in your everyday work, it is logical that it is of high quality, portable, sturdy, and doesn't break the bank.
Although each physician and dermatologist possesses differing criteria for their mobile microscope, some recommended qualities that can be found in devices as little as $299 include:
Smartphone compatibility

Charging Type

Battery Time

Magnification
4. Interoperability
A final undiscussed point is the device's interoperability with other medical software. In many cases, dermatologists are forced to take images and have them stored in physical locations, or have them saved on a separate system for future reference. Studies show that nearly 50% of a dermatologist's time is dedicated to EHR/desk work due to interoperability cases such as this.
Digital dermatoscopes like MoleScope II are designed to capture medical-grade quality images of the skin for skin cancer screening. It is highly recommended for medical professionals, as it provides superior imaging quality, interchangeable contact and non-contact imaging, as well as polarized lighting.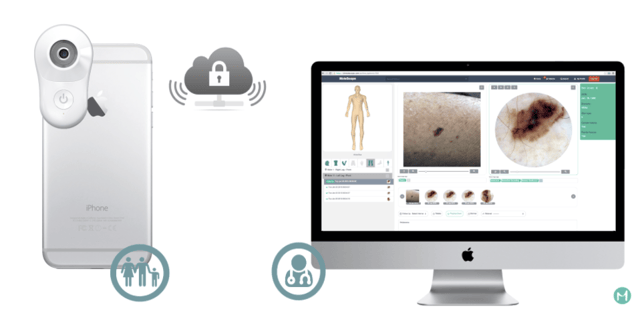 Additionally, the device is designed to work seamlessly with DermEngine, an intelligent skin analytics platform for skin cancer specialists that provides high-quality dermoscopy, precise and efficient documentation and a seamless, secure communication solution for busy clinical workflows.
By automatically syncing images with digital dermoscopy software like DermEngine, medical professionals can capture high quality images of their patients' skin, keep them organized in an online system, eliminate redundant paperwork and keep a detailed profile of their patients' lesion history.
Conclusion
In conclusion, polarized lighting, contact & non-contact imaging, affordability, and interoperability are essential components of a proper digital microscope for early skin cancer detection. When used together with software designed for artificial intelligence in dermatology, skin cancer specialists are able to capture high resolution images for all of your patients needs while managing workflows and focusing on your practice.
-The MetaOptima Team
Would you like to compare the features, image quality, and price of MoleScope II to other mobile dermoscopes on the market? Download your brochure below!
Sources:
Topics: Dermoscopy MoleScope Mobile Dermoscopes Digital Dermatoscopes Contact Imaging Non-Contact Imaging Polarized Dermoscopes Digital Dermoscopy Dermoscope Teledermoscopy Dermatoscopy Mobile Dermoscopy