Topics keyboard_arrow_down
Dermoscopy is an integral part of any dermatology practice. Shown to increase diagnostic accuracy of skin cancer and other conditions by as much as 35%, this tool represents some of the most innovative solutions introduced to the dermatology industry. Discover the top three ways mobile dermoscopes in particular are shown to streamline professional workflows for maximized efficiency.
Studies show that over 95% of Americans have a smartphone.1 As this overwhelming statistic continues to grow, mobile dermoscopy has made its powerful introduction. Built around the needs of the modern medical professional, flexibility, app connectivity, and imaging quality are priority. Mobile dermoscopes are:
1. Portable
Dermoscopes come in all shapes and sizes, each bringing unique values and strengths. The mobile dermoscope is designed with professional flexibility in mind. Offered for a wide variety of popular smartphones and tablets, mobile dermoscopes such as MoleScope are small, portable, affordable ($99-$299 USD), wireless, and rechargeable all while offering ~60x magnification for optimized imaging. When compared to other dermoscopy tools on the market, research demonstrates that size does not necessarily equal quality.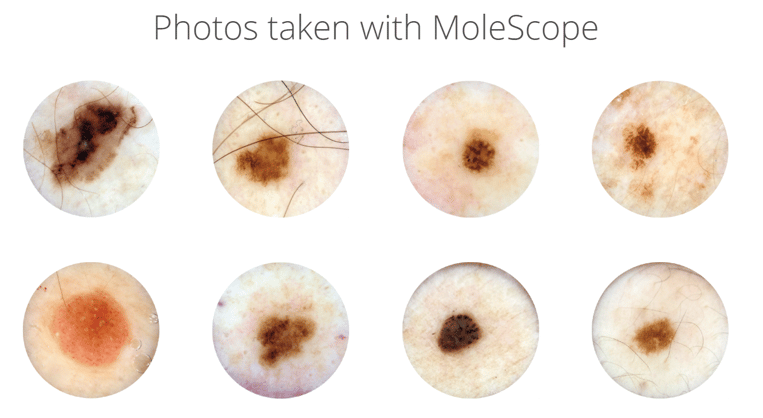 2. Connected
For today's medical professional, connectivity is a must; since mobile dermoscopes are designed to work with a smartphone/tablet, the vast majority are designed to be used with dermoscopy apps for advanced imaging documentation and analysis. Only one example, the DermEngine mobile app lets medical professionals capture images and quickly document them to a patient's virtual body map. The information is then synced in real-time with the web-platform where further analytics can be run at a later time for ultimate imaging efficiency.
3. Improving
Technology is constantly improving; dermatology EMR software, medical protocols, artificial intelligence (AI) algorithms are all being developed and overcome at an impressive rate- so why not dermoscopy imaging too? Since mobile dermoscopes rely on the imaging quality of the smartphone, this results in the magnification and resolution of the images being enhanced at an increasing pace. As a result, where other dermoscopes require expensive upgrades, a medical professional's mobile dermoscope is being enhanced each time they purchase that new phone they were already planning to treat themselves to.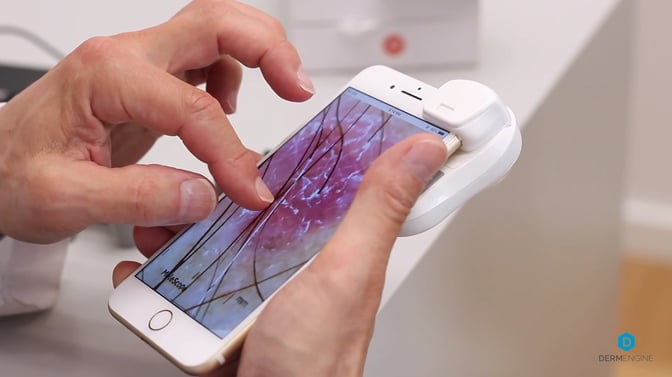 Final Thoughts
An already key tool in any dermatology practice, the dermoscope continues to receive improvements designed to simplify the imaging process for medical professionals. Equipped with the latest dermatology apps and tools, this device takes advantage of smartphones to create a new class of imaging designed to be affordable, portable, and modern. As the camera resolution of smartphones continues to increase, these devices promise to only create a bigger positive impact within the dermoscopy industry.
-The MetaOptima Team

Are you interested in learning about how the latest dermoscopy tools and intelligent dermatology software can support your practice? Download the MoleScope II brochure today!

Topics: Dermoscopy Mobile Dermoscopes Digital Dermoscopy Dermoscope Dermatoscope Dermatoscopy Mobile Dermoscope Mobile Dermoscopy