Topics keyboard_arrow_down
Here at MetaOptima, we are proud to offer MoleScope, a portable mobile dermoscopy solution for quality imaging. Did you know that there are two versions of the device? This article highlights the key differences of how MoleScope versus MoleScope II are tailored to the specific needs of patients or medical professionals.
In the expanding world of dermoscopy, innovations focused on addressing the growing rate of skin cancer cases and dermatologist shortage. For example, MoleScope (Original) is designed to empower patients with an affordable solution to manage their skin health and experience peace of mind. Possessing a magnification of ~50x, this non-polarized device comes with disposable contact plates and hand sanitizer to limit light reflected off the skin.
Additionally, the dermoscope is designed to work with a free associated app (by the same name), where patients can organize, analyze and track their images over time, as well as send them to a medical professional (if available in their region) for fast, affordable feedback.
As a result, patients are able to receive the streamlined care necessary for the early detection of skin cancer while maintaining direct access to a dermatologist or medical professional for observation. In turn, this increases patient engagement, education, and confidence in their long-term health.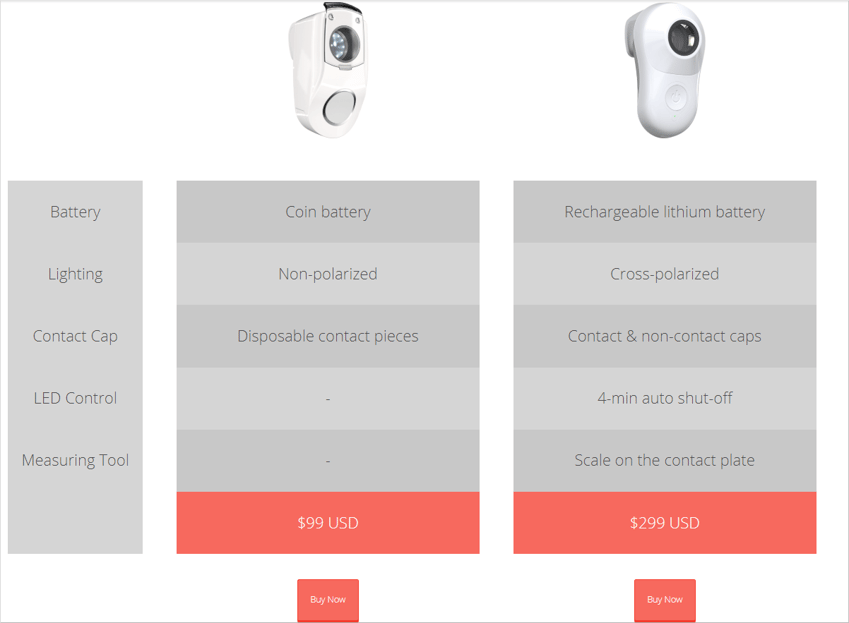 MoleScope II: For Medical Professionals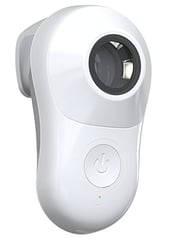 In contrast, MoleScope II is designed for advanced dermoscopy by medical experts. Featuring ~60x magnification, polarized lighting, interchangeable contact and non-contact imaging caps, and a contact scale on the plate, the device provides medical-grade quality images.
Due to the fact that the image quality for mobile dermoscopy tools intrinsically depends on the associated phone camera's resolution, mobile dermoscopes are guaranteed to improve over time. As a result, the magnification of MoleScope II jumps from ~60x to an astonishing ~200x when used with iPhone X.
Additionally, the device is designed to work seamlessly with DermEngine, an intelligent dermatology platform for the imaging, documentation, and diagnosis of skin conditions. Available as both an app and web platform, dermatologists are able to capture medical-grade quality images via MoleScope and the app, where they will be instantly synced with the web platform for further analysis.
This practice management software is equipped with some of the most advanced features in dermatology to support professionals at every step of their practice. Popular tools and add-ons include store-and-forward teledermatology services, total body photography, clinic analytics, and Visual Search (a clinical decision support tool powered by artificial intelligence).


Conclusion
In order to properly address the contrasting needs of doctors and patients, MetaOptima has created MoleScope as an in-home solution for patients to image their skin, and MoleScope II for medical professionals interested in utilizing the latest tools in mobile dermoscopy. Combined with the power of their associated (MoleScope or DermEngine) apps, these devices provide a new level of connectivity and clarity to the obstacles facing the field of dermoscopy.
-The MetaOptima Team
Are you ready to experience how mobile dermoscopy tools like MoleScope II can support your practice? Visit our online shop today!
Topics: Dermatology Dermoscopy Skin Cancer MoleScope Digital Dermatoscopes Digital Dermoscopy Dermoscope Dermatoscope Teledermoscopy Dermatoscopy Mobile Dermoscopy Skin Cancer App