1. Teledermatology improves patient-doctor communication for better diagnostic results
Despite being one of the most prevalent forms of cancer, skin cancer is also the most treatable if discovered at an early stage. However, with more than 50% of melanoma cases initially detected by general practitioners, the need for efficient communication and interaction between patients and professionals is imperative.3 The lack of specialized dermatological training and the absence of dedicated tools can hinder diagnosis for a GP. On top of this, the shortages of dermatologists has caused cluttered scheduling, leaving people waiting for an appointment for months at times.

The advent of new telecommunication technologies opens doors for accessing more patients than would ever be traditionally possible. In fact, a growing number of medical professionals are offering teledermatology services to reduce patient waiting times to as little as 9 days. Building on this concept, teledermoscopy services (telemedicine in the area of dermoscopy) have been shown to improve teledermatology diagnostic accuracy by around 15%.4,5 Streamlined accessibility to consultation services combined with enhanced connectivity for exchanging high-quality imaging data result in better and faster diagnostic processes with higher chances of skin cancer early detection.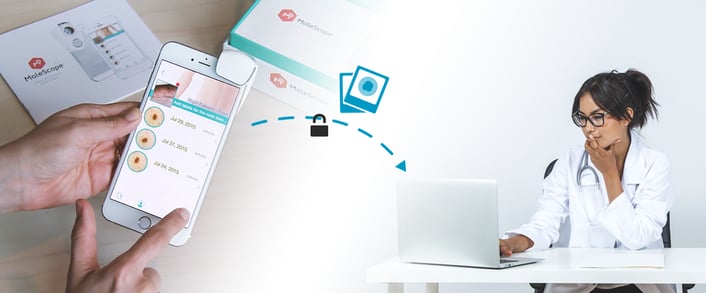 2. Intelligent dermatology software supporting dermatologists with an efficient practice
Survival rates are heavily dependent on the stage at which skin cancer is first detected, dropping by as much as 80% if detected in its final stages.2 Having the tools to obtain on-time, accurate diagnoses of suspicious lesions is of utmost importance. However, up until recently, traditional dermatology software provided limited help due to their lack of interoperability and limited patient involvement.

To this regard, modern electronic medical record (EMR) software, such as DermEngine, are offered as part of the SaaS model, making connectivity a priority for secure patient data storage and remote sharing. Similarly, new tools such as total body photography or mole evolution tracker are revolutionizing the way dermatologists analyze collected data. With the power to archive general as well as dermoscopic imagery these features allow for a precise look at lesions over time. As a result, this higher degree of accuracy supports a professional's expertise in determining the nature of the lesion alongside any necessary action.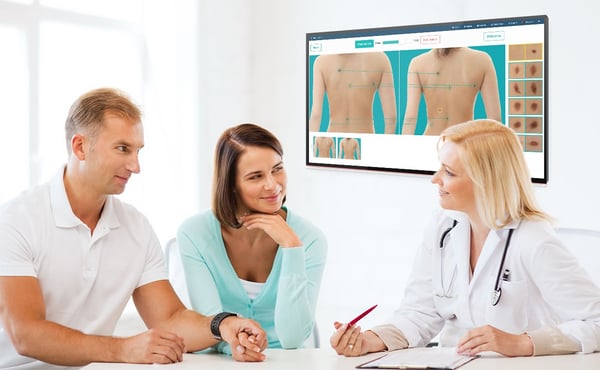 3. Mobile dermoscopes empower patients with skin self-assessments
Around 70% of potentially malignant skin lesions are first discovered by a loved one.6 Unfortunately, a lesion may be in its latest (and often irreversible) stages by then. Nevertheless, the unprecedented levels of availability of mobile phones and tablets are changing the way patients take care of their own skin. In fact, these devices are becoming preferred tools for dermoscopic imaging to assist in skin cancer early detection.

Mobile dermoscopes such as MoleScope offer the best opportunity for patients to practice regular self-checks. They have access to easily performing imaging, and store and share such images with the doctors through the MoleScope proprietary software.This in turn allows doctors to streamline the organization and analysis directly on their interconnected DermEngine account. Receiving such updates on a patient's case to provide a response in a few days' time can have a tremendous impact on early detection and subsequent treatment. Also, such seamless synergy in workflows offers a fast way to schedule an in-clinic consultation if the diagnosis shows time-sensitive results.

Conclusion
Skin cancer is a growing health concern for patients and doctors alike. Technology is playing a crucial role in providing both sides with refined tools and features for improved diagnosis. This constitutes a turning point in saving lives, providing more precise analysis and counter the clock action for treating cancer at its most curable stages. As more technological advancements are implemented in EMRs and are actively adopted by more professionals, patients can experience streamlined, quality care and increased survival rates.
-The MetaOptima Team
Would you like to stay updated on the latest news of MetaOptima and its dermatology EMR solution, DermEngine? Subscribe to our blog below! If you're ready to experience DermEngine's intuitive features for yourself, sign up for a demo today!