1. The nature of store-and-forward teledermatology
This practice gets its name from the ability of dermatologists to capture, store and share images within an intelligent dermatology software to be shared with patients at a later date. As a result of this, patients can send and receive images of skin lesions (often taken with the support of a mobile dermatoscope, such as MoleScope).
Key features of the store-and-forward method include:
Deferred connection (diagnosis provided at a later time)

Increased cost-effectiveness (no need for high-speed internet services)

No physical presence required (reduced inconvenience of scheduling appointments)

Increased time-management flexibility for patient and practitioner (outside typical business hours or locations)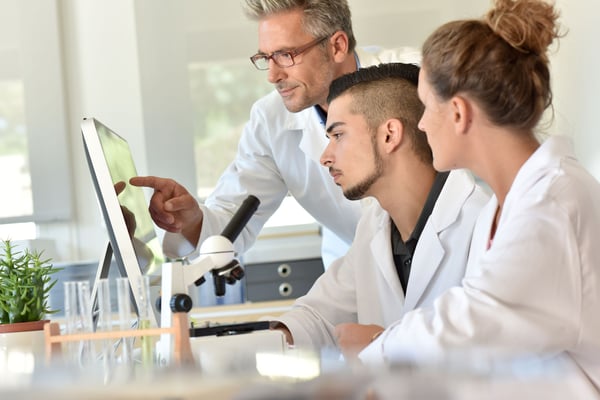 2. The implied benefits of the store-and-forward approach
Store-and-forward teledermatology services can play a pivotal role as an alternative solution to avoid unnecessary in-person dermatology consultations. Despite its deferred diagnosis time, patients can benefit from taking and saving images at their preferred pace and send them via an intelligent dermatology software, such as DermEngine, when connectivity is available. This is particularly advantageous in dermatologically under served areas, such as rural locations, where this technique is most popular.1
Additionally, the store-and-forward tactic offers physicians the flexibility to find the most convenient moment to analyze the submitted images. This is in direct contrast to face-to-fact appointments, which require the immediate presence of a medical professional. In this scenario, is expected that diagnosis and follow-up procedures are to come at a later time.

Probably one of the greatest advantages of the store-and-forward approach relies on the fact that patients can take images with a higher degree of quality by utilizing a professional mobile dermatoscope. This simple-to-use though technologically advanced device allows for clearer images, much like those taken by an expert dermatologist. When coupled with the use of an intelligent dermatology software, doctors can rely on a consolidated tool that works in synchrony for image storage and analysis followed by subsequent diagnosis. MoleScope and DermEngine are an excellent example of how this workflow can be applied in a synergistically successful approach.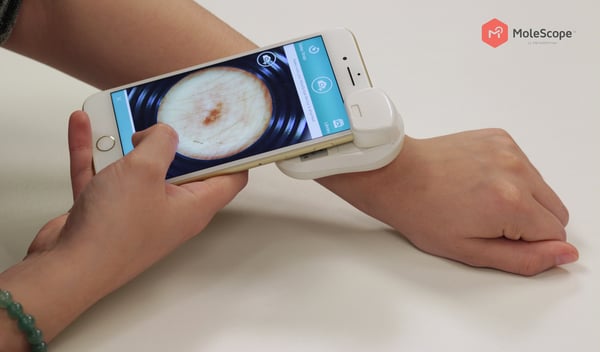 3. The challenges faced by store-and-forward teledermatology
Unsurprisingly, the largest drawback of this practice is based on the quality of the dermoscopic images submitted. Patients may have a hard time understanding the importance of properly taken images to ease the diagnosis process. Training them on how to appropriately use imaging devices is key to obtaining medical-grade quality pictures. MoleScope's mobile dermatoscope represents an ideal solution to this, for its portability, affordability and simple operation procedure.

On the other hand, no physical interaction can play a detrimental role as well. As reported in previous surveys, patients report some degree of dissatisfaction when no proper follow-up is given on the practitioner's side.2 DermEngine EMR software for dermatology practice can tackle these concerns as one integrated hub where proper doctor/doctor and doctor/patient communication can be tracked in real-time. This practice management software then helps in both, dermoscopic image storage and analysis as well as in proper patient follow-up and diagnosis.

Conclusion
The increase in dermatology consultation cases combined with the latest advances in technology have produced the development of successful teledermatology services. Depending on what the daily practice requires, a live-interactive or a store-and-forward approach may be necessary. Certainly, a combination of both techniques allow for a broad coverage of all kind of patients' needs. When in-person consultations become a constraint, leveraging on the advantages described for each approach can make teledermatology the surplus to serve urgent cases and hard-to-reach patients effectively.
-The MetaOptima Team
Would you like to stay updated on the latest news of MetaOptima and its dermatology EMR solution, DermEngine? Subscribe to our blog below! If you're ready to experience DermEngine's intuitive features for yourself, sign up for a demo today!