The MetaOptima Team is gearing up for the World Congress of Dermoscopy 2018! Less than 11 days away, the 2018 congress will be held in Thessaloniki, Greece from June 14th-16th. This year we have a special discount for those who visit our booth (#22). Read on to find out how you can get a 6-month DermEngine subscription for free and walk away with 50% off your MoleScope II!
DermEngine & MoleScope II at WCD 2018
This year, we are excited to be showcasing the latest features of MoleScope II and DermEngine. MoleScope is our mobile dermoscope designed to work seamlessly with DermEngine while offering high resolution images for an affordable price. DermEngine is an intelligent dermatology software equipped with the latest tools in clinical decision support (Visual Search), teledermoscopy, total body photography, and clinic analytics designed to enhance workflows and support you in every step of your practice.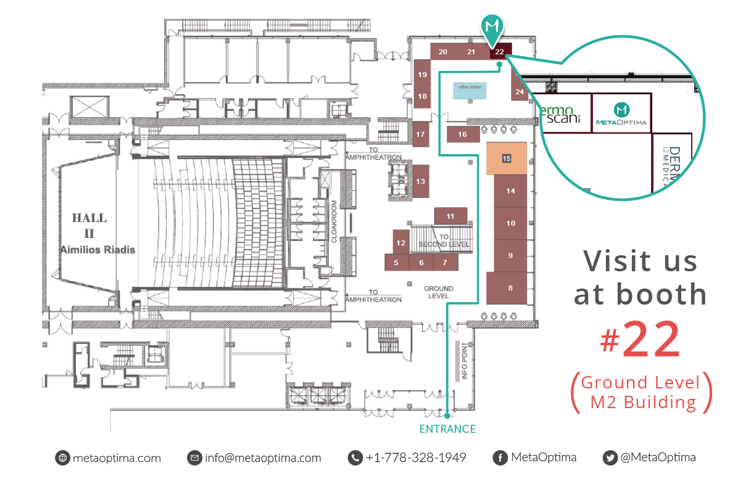 Newly upgraded with features like Pathology Lab Integration, My Activities & Timeline, and Procedures, DermEngine is once again changing the way you enhance your dermatology practice. If you are attending WCD 2018, you are encouraged to visit booth #22 to experience how DermEngine works seamlessly with dermoscopes such as MoleScope II.
DermEngine & MoleScope Promotion Limited Time Offer
In addition to showcasing the latest features of our intelligent dermatology software and mobile dermoscope, we will be offering a special deal for everyone starting June 14th. Create a DermEngine account and enter the code below to receive 6 free months of DermEngine! Will you be attending WCD 2018? As a special appreciation, we are offering a second deal for attendees who visit our booth- anyone that visits us will be able to purchase a MoleScope II for 50% off!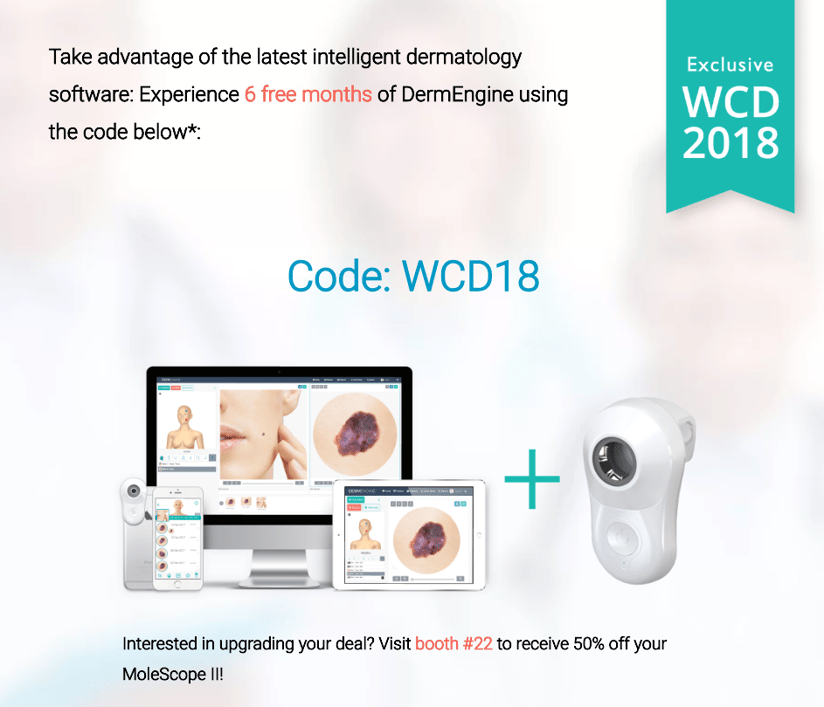 With less than two weeks left until the big event, the MetaOptima Team is excited to have the opportunity to showcase DermEngine and MoleScope II. If you are attending we encourage you to visit our booth for a quick demo and to talk about the latest applications for artificial intelligence in dermatology. Any questions? Want to learn more? Email us at info@metaoptima.com today!
-The MetaOptima Team
Would you like to stay updated on the latest news of MetaOptima and its intelligent dermoscopy software, DermEngine? Subscribe to our blog below! If you're ready to experience DermEngine's intuitive features for yourself, sign up for a free 30-day trial today!