Topics keyboard_arrow_down
MetaOptima is getting ready for AAD 2018! In only a few days, our team will be demoing all of DermEngine and MoleScope's latest features, as well as giving away a free iPod Touch every day to one lucky winner! For your chance to win and try out intelligent dermatology software, check us out at Booth 4458. We will be giving away free USB sticks, water, and much more! Want to learn more about how you can win big? Click here!
Our Team
This will be an exciting time for MetaOptima, as it provides the opportunity for our local and national teams to come together to discuss new opportunities, and share our latest innovations with skin cancer specialists, skin care industries, pathology labs, clinics, hospitals and dermatologists. Staff who will be attending AAD this year include:
Maryam Sadeghi-

CEO, Co-Founder

Majid Razmara

- CTO, Co-Founder

Darren Antaki-Smith- AUS/ NZ National Sales Manager

Fernanda Velloso- Marketing Specialist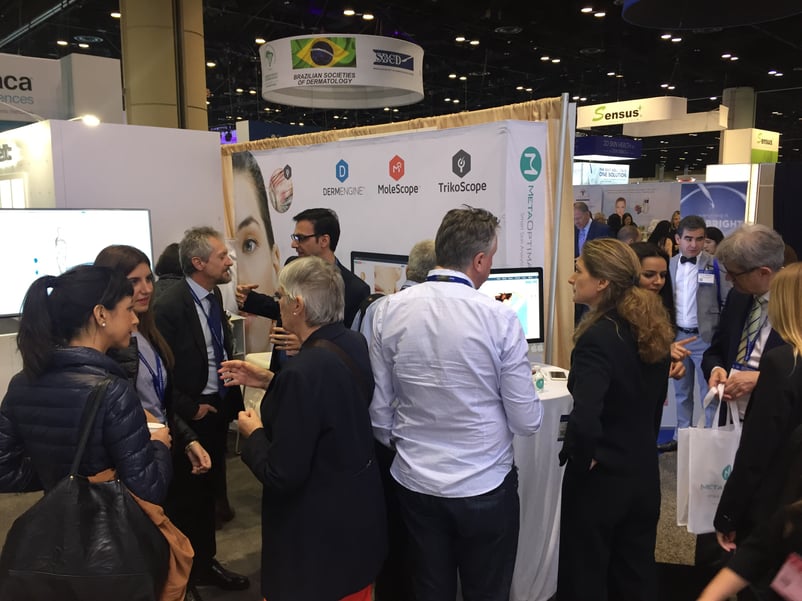 Book A Demo
We encourage everyone who is interested in intelligent dermatology and dermoscopy to visit our booth to receive a demo. Here, we will be able to walk you through the dermatology app's features, teledermatology services, and artificial intelligence (AI)- powered features like Visual Search.
Additionally, if you would like to learn more about how DermEngine can benefit your practice along with potential business opportunities, please book a meeting with us so we can schedule time to focus on your unique needs and questions. We would like to meet with as any of you as possible. Please be sure to sign up quickly- we are already fully booked for Friday, February 16th! We look forward to seeing you there!
-The MetaOptima Team
Would you like to set up a meeting at AAD? Book an appointment today!
Topics: DermEngine MoleScope AAD 2018 Book An Appointment News & Events