Topics keyboard_arrow_down
It's almost here! AAD 2018 is less than two days away. The MetaOptima team will be demoing all of the new features coming to DermEngine in the upcoming months, as well as showing the advanced imaging capabilities of MoleScope II. To show our customers how much we appreciate their business, we will be promoting a special discount for three days only!
Exclusive Offer Just For You
From February 16th-18th we will be offering fantastic deals on all of our products: MoleScope II, DermEngine, and TrikoScope! We understand that different practices have unique needs. That is why we are offering promotions designed to include everyone.
For example, $15/month will provide you with access to DermEngine's essential features like teledermatology and Visual Search (fueled by artificial intelligence) while receiving a MoleScope II for only $100! That saves you $373 USD! For customers not ready to purchase DermEngine, we are also offering MoleScope & Trikoscope for a standalone price of $199 for the first time ever!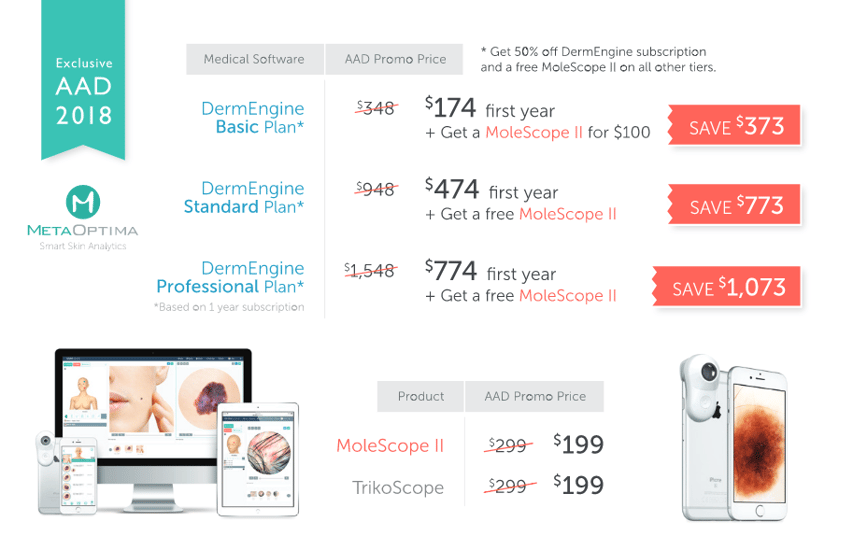 Remember: these exclusive offers will only be available for those who visit us (Booth #4458-MetaOptima/DermEngine) at AAD from February 16th-18th!
Alternatively, since so many medical professionals are visiting from around the world, we are also offering another deal just for those purchasing online. Starting now, we are accepting MoleSocope/TrikoScope pre-orders with free pickup at AAD to save on shipping costs! To purchase your device now, visit our online shop today!
What Is MoleScope?
MoleScope is a mobile dermoscope that captures a high-resolution, detailed view of the skin through magnification and cross-polarized lighting. It can be used to provide dermoscopy images for a wide variety of skin conditions such as skin cancer, as well as for hair and nail health, and works seamlessly with DermEngine.
What Is DermEngine?
DermEngine is an intelligent dermatology software for medical experts that focuses on documentation, diagnostic support and dermatology imaging for skin cancer and other conditions while helping physicians manage busy workflows with secure cross-platform access.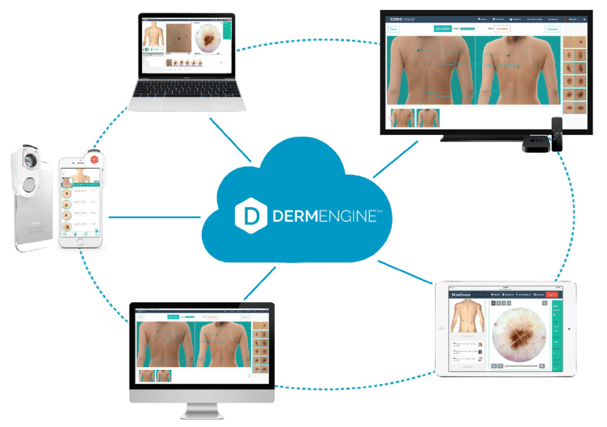 Book A Demo
We encourage everyone who is interested in learning more about the latest in intelligent dermatology and dermoscopy tools to visit our booth and receive a demo. Here, we will be able to walk you through the dermatology software's features and help you select a discount plan that is right for you.
Additionally, if you would like to learn more about how our dermatology app can benefit your practice along with potential business opportunities, please book a meeting with us so we can schedule time to focus on your unique needs and questions. We look forward to seeing you there!
-The MetaOptima Team
Would you like to meet with us at AAD? Book an appointment today!
Topics: DermEngine MoleScope Artificial Intelligence in Dermatology AAD 2018 Dermatology EMR News & Events