Topics keyboard_arrow_down
The third and final day of AAD 2018 was our biggest success yet! Although it was only a partial day, the MetaOptima Team received the most visitors! From 10:00 am all the way until 3:00 pm all of our members were working their hardest to show MoleScope (our advanced dermoscope) and DermEngine (our intelligent dermatology software) to as many industry leaders and medical professionals as possible. Since it was the last day, we also held our iPod Touch draw- continue reading to find out who the lucky winner is!
Final Day To Meet Healthcare Industry Leaders
Although many buyers were getting ready to go home, that did not stop our team from having its busiest day yet! Throughout the day we had new customers interested in seeing the latest dermatology features in artificial intelligence (AI) that DermEngine and MoleScope II have to offer. Additionally, we saw many familiar faces from the beginning of the event. Many of them had walked the entire exhibit hall (visiting hundreds of booths) and came back to purchase our intelligent dermatology software and advanced dermoscope for their practice.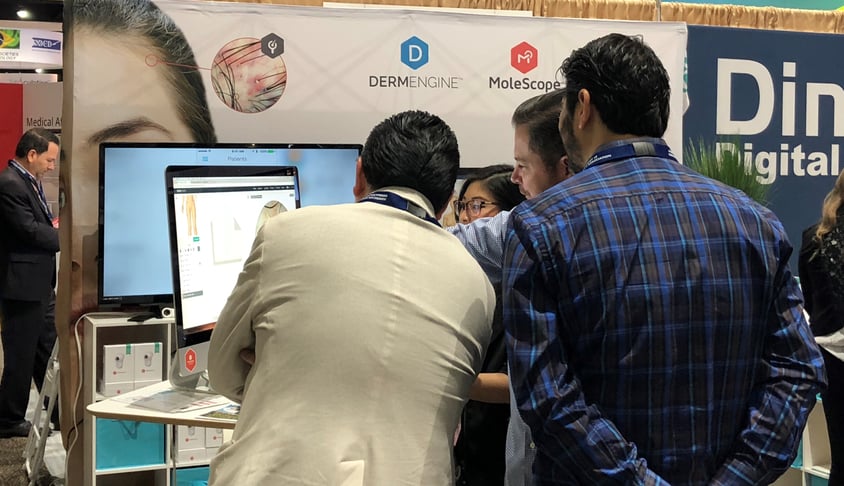 The Lucky iPod Winner
As part of our last day of AAD 2018, we were excited to announce the winner of our iPod Touch! Congratulations to Dr. J. Martin Izabal from Dermatologica, who attended the conference all the way from Mexico! Along with the free iPod, they have received a complimentary attachment to be used with their new MoleScope II dermoscope device for their practice for skin cancer imaging.
We'd also like to take this opportunity to thank everyone who attended our booth or stayed up to date with us via our social media pages. We couldn't have done it without your support! From all of us on the MetaOptima Team, we thank you from the bottom of our hearts, and hope to hear from you soon or see you next year!
-The MetaOptima Team
Would you like to learn more about the intelligent dermatology features featured at AAD? Sign up for a DermEngine demo today!
Topics: DermEngine MoleScope AAD 2018 Dermatology EMR Dermatology Software iPod Winner News & Events