What are the main concerns around teledermoscopy services implementation?
Upon graduating from medical school in Tehran, I spent ten years practicing as a GP in Iran before moving to Canada as a family physician with a focus in skin conditions. During my time as a medical student at the dermatology ward, I often thought about how images from patients' lesions could be effectively saved without the concern of where to securely store them so as to have a quick and easy access to them. This was a serious concern because it wasn't easy to remember how the spot looked like in the previous visits, and patient management could be jeopardized. After experiencing DermEngine's tools and workflows on a daily basis, I can now see that many of the concerns I had in those days have been addressed.
Since DermEngine is a secure cloud-based dermatology software, you don't need to be at your office to review your patient's medical record. Instead, you can benefit from utilizing this software from anywhere your practice requires you to be. Think of the waiting time at an airport to catch a flight or taking the subway to go to work; you just need to have your smartphone or laptop and a reliable internet connection to make the most of your professional time.
Coming from a background where patients' medical records were (and in many cases still are) kept in hard copy format - requiring huge amounts of physical space and making it difficult to reach- allows me to greatly appreciate the accessible nature of cloud-based software. Currently, there are hundreds of different EMR systems available in the market, many of which provide their own unique features and benefits. In my own experience, DermEngine surpasses being just an EMR for archiving patients' records in a digital format- it is an intelligent dermatology software designed to actively support health care providers (HCPs) in making more accurate diagnoses, properly documenting each consultation to streamline workflows and achieve effective treatments and follow ups.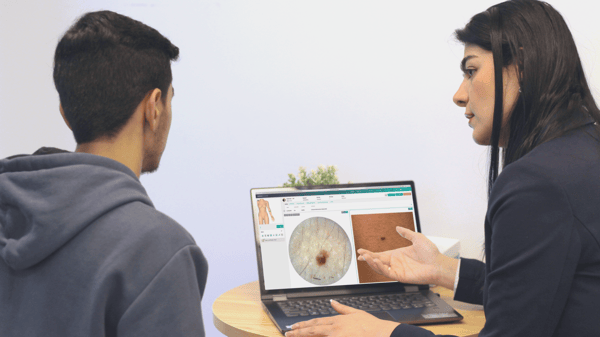 Building on this necessity for advanced, effective tools to support the growing needs of physicians, many medical professionals are seeking to employ AI in their daily practice or take advantage of machine learning available in clinical decision support tools. In this respect, DermEngine is well equipped by intelligent tools and features designed to be used as an educational resource for improved and confident evidence-based decisions. In fact, something I find really beneficial is that rather than looking at a medical book with a few images, DermEngine provides a comprehensive collection of pathology labelled dermoscopic images which are used as visually similar references to compare against your target image of a skin lesion.
In my own perspective as a physician, it is important to let patients contribute to their healthcare plans while having the ability to access their medical record. I am aware that sometimes it is difficult and time-consuming for our fellow clinicians to explain the details to patients, even more so when patients might not have the level of instruction to fully understand their care plan or simply forget about the solution. As a result, medical professionals can benefit from having a centralized software to document this information and be able to share it with patients when necessary. DermEngine readily allows for a two way communication approach, where not only doctors can send notes to patients for requests or follow ups, but also patients can send images to their doctor and ask for their opinion. Additionally, the level of patient restrictions is entirely controlled by the physician in order to ensure an optimized balance between accessibility and privacy.
On a personal level, working at MetaOptima has provided me with the opportunity to train other GPs on DermEngine and as a result I receive valuable feedback about pain points and challenges they face in their practice on a daily basis. Being in a privileged position where I can share the professional feedback with our R&D team guarantees the improvement of the features available in the system to match doctors' needs.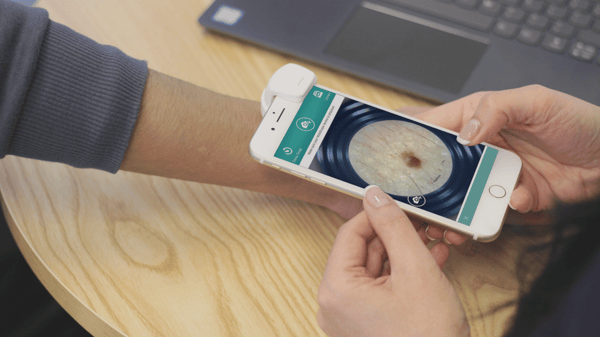 Lastly, I would like to make an open recommendation to our clinician colleagues to consider new technologies provided in health systems in order to achieve a greater level of efficiency in our daily practices while benefiting from what technology has to offer us in the form of optimized patient care. This undoubtedly applies to dermatology practice; DermEngine can use not only as an EMR but also a secure place for imaging, documenting and analyzing; a revolutionary example of how technology can be harnessed to optimize communications among providers and patients.
-Dr. Honieh Barzegari
Dr. Honieh Barzegari is a Client Success Executive at MetaOptima Technology Inc. Dr. Barzegari graduated from Islamic Azad University, Tehran Faculty of Medicine, Iran. She brings her expertise from more than 10 years practice as a professional GP to guarantee best client onboarding and management experience of the intelligent dermatology platform DermEngine.
If you would like to experience the power of DermEngine and its intelligent dermatology tools in your practice, please book a demo with me! I would be glad to cover the insights in a personalized session.