We are thrilled to announce that Maryam Sadeghi, CEO of MetaOptima will be speaking at Startup Grind's Women Leaders Event in Vancouver! Along with two other CEOs, Maryam will be chatting about the importance of developing intelligent dermoscopy tools in healthcare, and sharing her personal experience about the challenges and rewards of being a successful female CEO in the digital health supercluster industry here in British Columbia.Startup Grind is a global startup community designed to educate, inspire, and connect entrepreneurs. On May 10th, Startup Grind is hosting a Women Leaders Panel chat to discuss their stories, experiences as entrepreneurs, and their valued opinions of the startup culture here in Vancouver.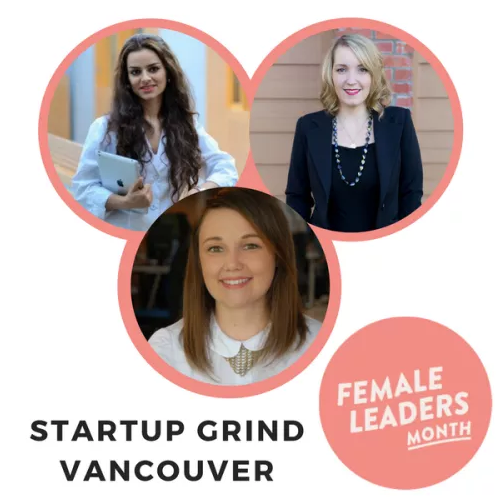 Maryam co-founded MetaOptima Technology, a company dedicated to developing intelligent dermoscopy analytics, imaging, and management technologies. Recently, Maryam was appointed as a MITACS Research Council member, was credited as one of BC's most influential women in BC Business Magazine, and her company was listed as a "Ready To Rocket" business in the area of digital health.
It is an honor to have the opportunity to chat with others about my journey as a female entrepreneur in the startup tech field. Being a first time CEO is difficult! Being a technical CEO is difficult! Being a female CEO is difficult! Now you have all three of them together! It should be an exciting journey! I'm looking forward to sharing my experiences so that others can be supported on their own personal journeys! -Maryam Sadeghi, CEO & Co-Founder of MetaOptima Technology Inc.
Recognized for its visionary work in the field of artificial intelligence in dermatology (AI) , Maryam's company developed DermEngine, an intelligent dermatology software that specializes in supporting dermatologists, physicians, and skin cancer specialists in their work through enhanced workflows, optimized care, increased accessibility & communications, and supported clinical decisions.

By offering teledermoscopy, total body photography, clinic analytics, and Visual Search (powered by artificial intelligence/AI, Visual Search utilizes content-based image retrieval algorithms to provide visually similar images to submitted images of patient spots), MetaOptima is actively providing a solution to the growing need for smart, advanced tools in dermoscopy.
Maryam, along with the rest of MetaOptima is excited for the opportunity to share the challenges, benefits, and rewards of building a digital health company dedicated to making a difference. Since its beginnings in 2012, MetaOptima has become one of the fastest growing digital health technology companies in Canada, and continues to strive to empower physicians and patients for better care outcomes.
-The MetaOptima Team
Would you like to stay updated on the latest news of MetaOptima and its dermatology emr software, DermEngine? Subscribe to our blog below! If you're ready to experience DermEngine's intuitive features for yourself, sign up for a free 30-day trial today!