Topics keyboard_arrow_down
Even busier than yesterday, the second day of the World Congress of Dermoscopy (WCD) at Booth #22 was packed with attendees eager to receive a demonstration of how DermEngine and MoleScope II can support their practice. If you haven't already signed up, read on to learn how you can receive 6 FREE months of DermEngine right now!
The Latest Tools In Advanced Dermoscopy
Much like Day 1, most of our team members spent the majority of the day showcasing our smart dermoscopy tools, while our Digital Marketing Manager and R&D Scientist navigated the hall exploring the latest innovations in dermoscopy.

The rest of our day was packed with meetings scheduled for potential clients, and offering more information to attendees interested in learning more about DermEngine (our intelligent dermatology software) and MoleScope II (our mobile dermoscope) since yesterday. Word of mouth spread quickly, and our booth (22) was even more packed than yesterday, with our team members working hard to provide comprehensive demos to interested attendees.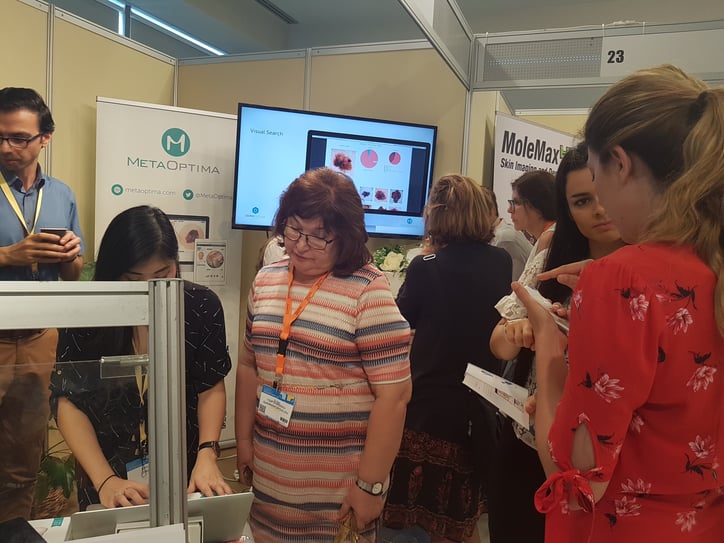 Dermatologists, GPs, and distributors were interested to learn more about our intelligent dermatology software and mobile dermatoscope. Our bilingual team were helping people in English, Spanish, Farsi, French and Portuguese! People were very happy to hear about the promotions we had available, and demonstrating Visual Search and total body photography were a huge hit! Dermoscopists were eager to see how clinical decision support tools like DermEngine hold the potential to support their practice.

Take Advantage Of Never-Before Seen Offers
Be sure to follow our social media channels for the most up to date news. If you are attending WCD, be sure to visit us at Booth #22 to see receive 50% off your MoleScope II today! Tomorrow is the last day that we will be offering 50% off MoleScope II. Originally starting at $299, we wanted to celebrate WCD 2018 and show our appreciation to potential clients by reducing the price to only $149€.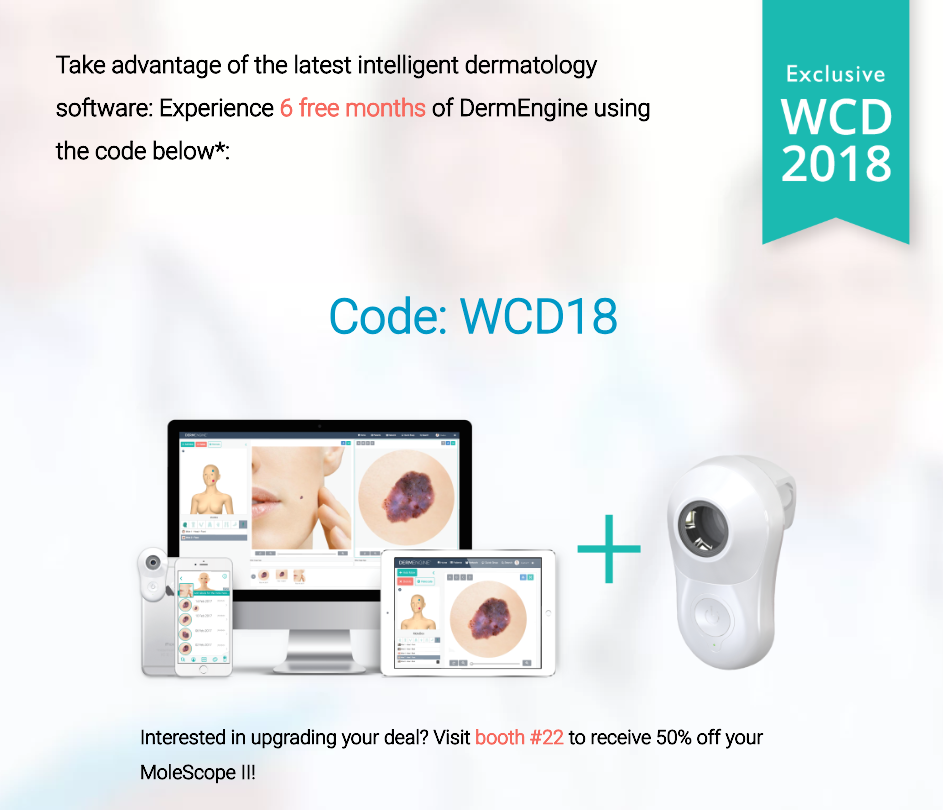 Not to worry, if you aren't attending WCD we still have a special promo just for you! Sign up today to receive 6 months of DermEngine (cod valid June 14th-June 29th) for absolutely free! The best part? You'll gain access to DermEngine's most popular tools like teledermoscopy software and Visual Search in addition the latest upgrades, like Pathology Lab Integration, Procedures, and Timeline. Follow our social media to stay updated on the latest news for the MetaOptima team at WCD and beyond!
-The MetaOptima Team



Visit us at Booth #22 today or email us to see how intelligent

dermatology EMR software

and

mobile dermoscopy

tools can enhance your practice for email us for more info at

info@metaoptima.com

Ready to experience six free months of the most intelligent dermatology software? Create an account below.



Topics: Dermoscopy Dermatoscope Dermatoscopy Intelligent Dermatology Software Mobile Dermoscope Mobile Dermoscopy World Congress of Dermoscopy WCD 2018 News & Events