Topics keyboard_arrow_down
The second day of AAD 2018 was very exciting! Much like the first day, our team spent the majority of the day demoing our intelligent dermatology software, DermEngine, and advanced dermoscope, MoleScope to interested potential customers.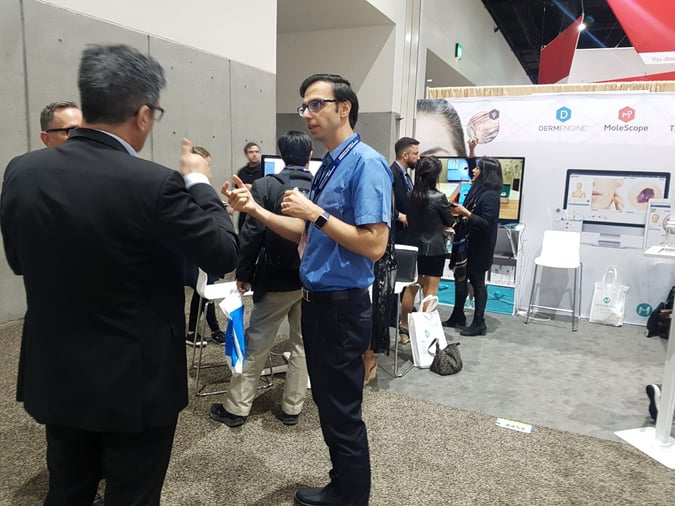 Networking
The rest of our day was packed with meetings scheduled for potential clients, and offering more information to attendees interested in learning more about DermEngine (our intelligent dermatology software) since yesterday. Word of mouth spread quickly, and our booth (4458) was even more packed than yesterday, with all 9 of our team members working the booth, providing demos, or attending meetings.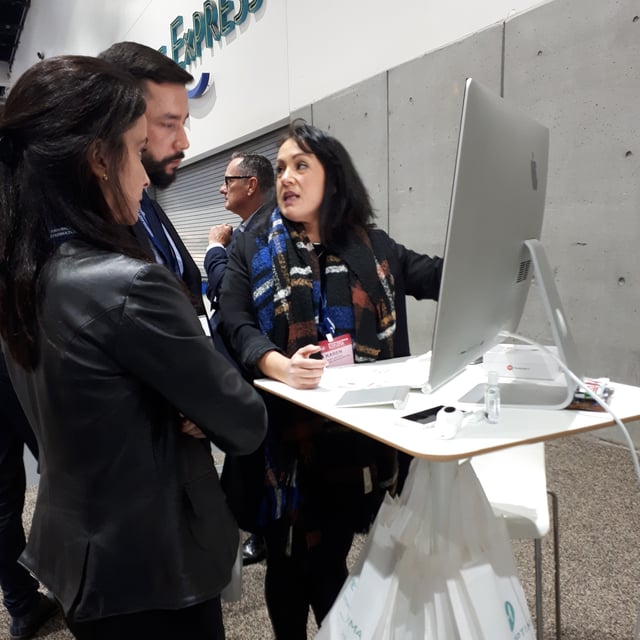 Dermatologists, GPs, and distributors were interested to learn more about our intelligent dermatology software and mobile dermatoscope. Our bilingual team were helping people in English, Spanish, Farsi, French and Portuguese! People were very happy to hear about the promotions we had available, and demonstrating Visual Search was a hit! Be sure to follow our social media channels for the most up to date news, and to see if you could be the lucky one! If you are attending AAD, be sure to visit us at booth 4458 to see the latest in intelligent dermatology!
Exclusive Offer Just For You
Tomorrow is the last day that we will be offering fantastic deals on all of our products: MoleScope II, DermEngine, and TrikoScope! We understand that different practices have unique needs. That is why we are offering promotions designed to include everyone. (Read more)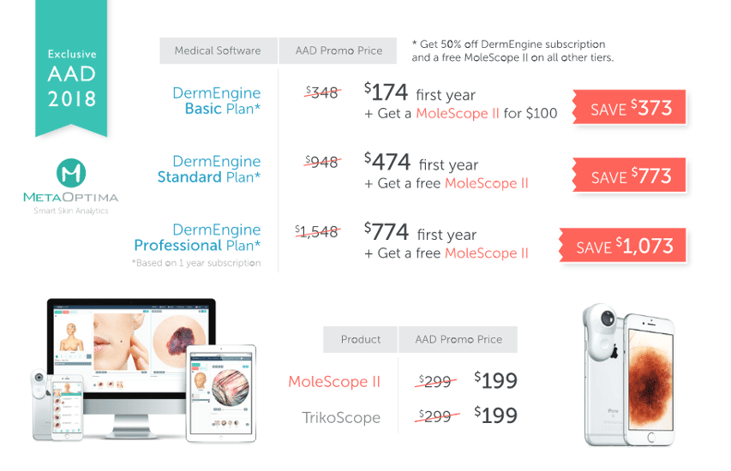 Remember: these exclusive offers will only be available for those who visit us (Booth #4458-MetaOptima/DermEngine) at AAD from February 16th-18th!
-The MetaOptima Team
Topics: DermEngine MoleScope AAD 2018 Dermatology EMR Dermatology Software News & Events