Topics keyboard_arrow_down
AAFP is underway! From September 24th-28th family physicians from across the globe are gathering together in Philadelphia to earn CME, network, and learn about new patient-centric care solutions! Come visit the DermEngine team at booth #326 to see how DermEngine is supporting this initiative!

What Is AAFP?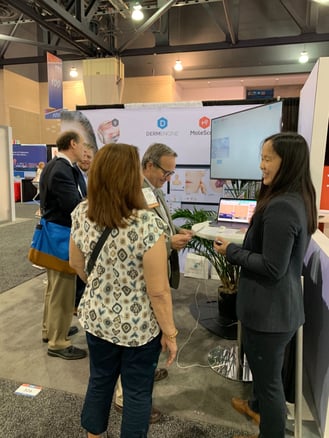 The American Academy of Family Physicians is the largest gathering of physicians designed to equip them with the latest news, tools, and education in primary care. Branded the Family Medicine Experience (FMX), AAFP's goal is to help attendees remember why they fell in love with their practice.
How Is DermEngine Supporting PCPs?
With over 20% of cases seen by GPs relating to the skin, physicians need access to dermatology tools that integrate with their practice to support their daily workflows. This year, Maryam Sadeghi, Manoel Coelho, Mandy Sun and Aaron Hersh, are showing GPs how DermEngine's scalable cloud-based interface integrates with popular EMR systems. Complete with the latest tools for imaging, documenting, and analyzing, physicians become supported at every step of the care cycle with intelligent dermatology tools designed to support them in providing efficient and affordable evidence-based care for the early detection of skin cancer. Are you attending AAFP? Come visit us at booth 326 today!
Visit the following links if you're interested in learning more about what our team has been up to!


-The MetaOptima Team

Would you like to stay updated on the latest news of MetaOptima and its intelligent dermatology solution? Subscribe to our blog below! If you would like to set up a meeting at AAFT make sure you contact us today. We can't wait to hear from you!
Topics: Dermatology Dermoscopy Skin Cancer Advanced Dermatology Digital Dermoscopy EMR Dermatology EMR Dermatology Software Dermatology EMR Software Health Tech Family Physician News & Events AAFP 2019 Skin Cancer App