Topics keyboard_arrow_down
MetaOptima is thrilled to announce that DermEngine now offers complete integration services for Epic users. Combining the features of both platforms for coordinated, interoperable and effective care is now easier than ever.
1. Integration is about automation
Saving time and avoiding unnecessary human error in patient data sharing is the main purpose of integration. Interoperability features can be leveraged to communicate between systems and exchange key data allowing for seamless connectivity, streamlined workflows and more informed care.

Consequently, Epic now offers a DermEngine app available directly in their marketplace, App Orchard. Once installed, patient information can be securely imported from Epic to DermEngine as an automatic and real-time solution to capitalize on the demographic data already stored within Epic while taking advantage of DermEngine's AI-based features for advanced care, saving time and avoiding human errors.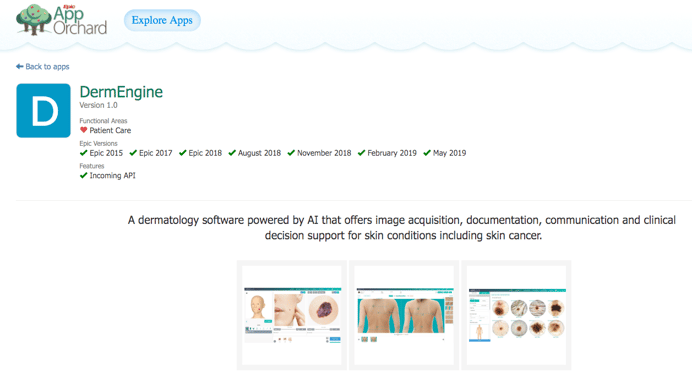 2. Intelligent dermatology enriching patient services on Epic
For a healthcare practitioner interested in offering intelligent dermatology services for enhanced imaging, documentation, and analysis of patient cases, DermEngine-Epic integration is the clear solution. The platform's award-winning AI-algorithms are a powerful educational feature, acting more as an intelligent assistant able to increase a dermatologists' decision-making accuracy by many folds, providing educated insight and support on a given case based upon the collective knowledge obtained from a large number of previously documented clinical studies.1

Similarly, the technical capabilities available in DermEngine can refine the data recorded in a patient's clinical history to leverage deeper insights. Being able to export results in a timeline report format, the analysis performed on DermEngine represents added value to the original patient profile contained on Epic. In this way, patient information can be constantly enriched with smart dermatology analytics, contributing to improved healthcare outcomes, a collective approach that benefits both sides by utilizing systems intelligently.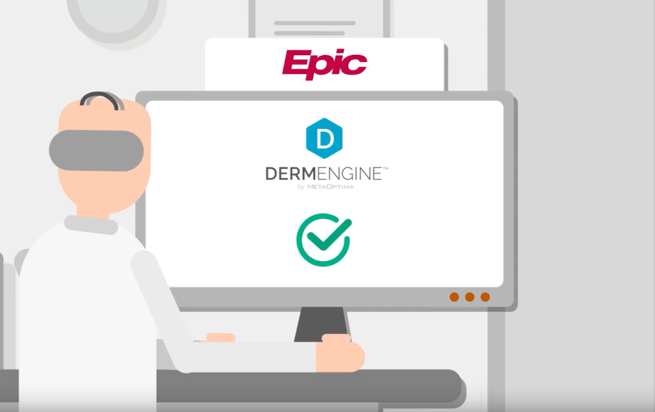 Final thoughts
As part of the advancements in healthcare technology, interoperability has become pivotal across many practices. As DermEngine continues to improve its tools and features, it is essential that it remains open for cross-platform use among the most well-known and utilized EMRs in the field. Having full integration with Epic guarantees continued support to existing Epic users, who can take their consultations one step further with the intelligent dermatology analysis obtained through DermEngine.
-The MetaOptima Team
Are you interested in staying at the forefront of intelligent dermatology? See how DermEngine's cloud-based technology can streamline your practices today by booking your demo!
Sources
1-https://www.sciencedirect.com/
Topics: Dermatology AI Intelligent Dermatology Services Artificial Intelligence in Dermatology AI In Healthcare EMR Dermatology EMR Dermatology Software Intelligent Dermatology Software Integration Dermatology EMR Software EMR Software Cloud Based EMR Intelligent Dermatology EPIC