Topics keyboard_arrow_down
xfderFrom August 24th-26th, MetaOptima's CEO, Maryam Sadeghi will be showcasing the latest features of DermEngine and MoleScope II at the annual Skin Cancer Symposium held in Auckland, New Zealand. Working alongside the company's Country Manager for Australia, Peter Birch, we are confident this will be an excellent opportunity for the team to share how our technologies can support the practice of dermatologists and other medical professionals!
Skin Cancer Symposium 2018: Dermoscopy Made Simple
Highly accredited for its practicality and valuable classes, this Skin Cancer Symposium is designed to provide world-class dermoscopy and surgical training. It's important to recognize that many doctors are often the first and only point of contact for viewing their patients' skin. However, limited training mixed with over-worked hours with hundreds of thousands of different cases coming through the door can often lead to lessened confidence in diagnosing skin lesions. How can this be improved?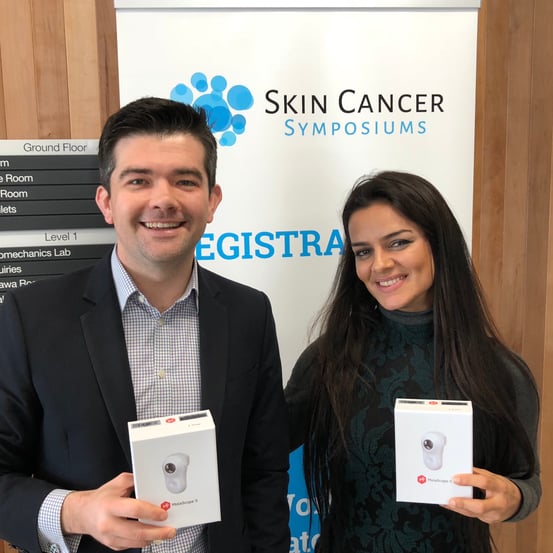 Undoubtedly, the best method is through training in dermoscopy to help doctors recognize skin cancers with a higher rate of precision. However, this is easier said than done, as traditional dermoscopy teaching has been voiced as challenging and time consuming. As a solution, the Skin Cancer Symposium delivers world-class presentations by key leaders in the dermatology industry to break down the science of dermoscopy into simplified, easy-to-follow algorithms,
MetaOptima: Providing The Tools For Simplified Dermoscopy
At MetaOptima, our vision is to provide medical experts with advanced technologies in order to provide affordable, accessible care to patients and support the early detection of skin cancer and other skin conditions. Building on this vision, our company is pleased to provide eligible attendees with the opportunity to receive a free MoleScope II alongside a complimentary 1-year subscription to DermEngine's Standard Group Plan.



This gives medical professionals the opportunity to take what they've learned at the symposium and apply it immediately to their practice. Using MoleScope (a mobile dermatoscope) with their smartphone, physicians are now able to take medical-grade quality images and upload the images straight to DermEngine. Here, they will gain access to a library of pre-labelled pathology images and receive AI-powered insights to support their clinical decisions, becoming an in-expendable resource to their practice.
Conclusion
Working together, MetaOptima is excited to have the opportunity to equip physicians and other medical experts with the tools necessary to support the confidence of their clinical decisions going forward. If you are interested in learning more about how artificial intelligence (AI) is being used to support dermoscopy education, you are encouraged to click here.
-The MetaOptima Team

Would you like to learn more about how intelligent dermatology tools like DermEngine can enhance your practice? Book a demo today!

Topics: Dermoscopy Digital Dermatoscopes Digital Dermoscopy Dermatoscope Mobile Dermoscope Mobile Dermoscopy