Topics keyboard_arrow_down
More patients than ever need your professional care. How can you provide quality services when many are no longer comfortable physically attending their appointment?
As concerns over the Coronavirus (COVID-19) continue to grow, healthcare systems around the world are experiencing unprecedented strain as they race to provide care for the rising number of sick patients. In an effort to minimize the spread of the virus, the World Health Organization (WHO) has recommended that people practice "social distancing". How can you ensure that your patients continue to receive the care they need without compromising the safety of other patients and your staff?

What Is Teledermatology?
Teledermatology is a sub-specialty of telemedicine (also known as telehealth) that uses telecommunication technologies to connect patients with a healthcare provider for the professional feedback of a skin-related condition or inquiry. Comprising roughly 20% of call cases seen by general physicians, dermatology conditions are often diagnosed based on visual characteristics, making it the perfect candidate for remote services.1
Empowering Your Patients
Telederm breaks down proximity barriers to increase the accessibility of your services for continued care for your patients. Your staff can invite existing and new patients to complete their account on the secure online portal (MoleScope) and download the app all from the comfort and privacy of their own homes. From here, they can capture and document their images on a personal digital body map and submit them to your team for professional feedback.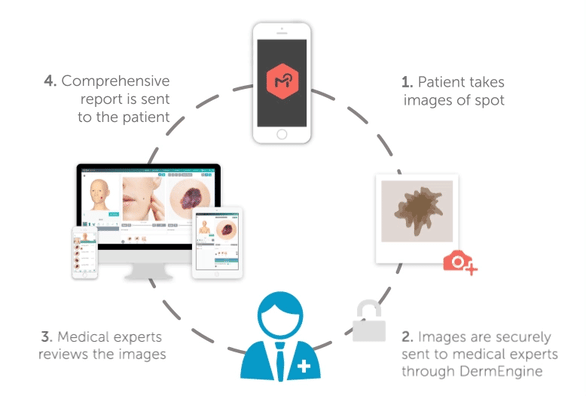 All information pertaining to the patient's case will be visible on DermEngine, our intelligent teledermatology software where healthcare providers can offer their feedback for a nominal fee. Rather than replacing your existing medical software, DermEngine leverages its strengths to complete your provided services, allowing your practice to:
Limit unnecessary in-clinic visits & cancellations

Maintain access to current patients

Create a new form of revenue

Expand your services

Serve remote patients

Together, telederm services can optimize daily case management, while minimizing interruption of daily operations and the spread of diseases to your patients.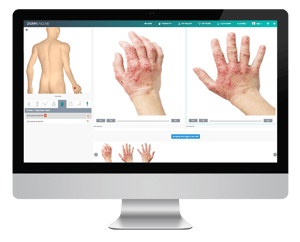 Connected Care
Due to the remote nature of telehealth, it is essential that patients are guided through their care journey. We've developed a targeted onboarding approach for both your staff and invited patients complete with step-by step instructional videos and printable guides designed to support them every step of the way.


Jumpstart Your Services
Time is an essential factor when considering the next steps for your practice and its patients. Let us know if teledermatology is an option for your practice and we'll work with you to take your clinic online as quickly as possible!
Sources
Topics: Dermatology Patient Management MetaOptima Telehealth Teledermatology Telemedicine Teledermatology Platform Teledermatology Services Advanced Teledermatology Dermatology Software Teledermoscopy Teledermoscopy Software Dermatology EMR System Best Teledermoscopy Intelligent Dermatology Skin Cancer App