Topics keyboard_arrow_down
Commonly recognized as a pillar within the healthcare community, pharmacies are a growing source of knowledge and assistance for patients in need of care (from flu shots to blood pressure tests). Most recently, visionary dermatologists are utilizing this trend to offer valuable skin check services via eTriage to patients.
Implementing Teledermoscopy Software
Recognized as an effective screening tool for the early detection of skin cancer, intelligent dermatology software such as DermEngine and mobile dermoscopy tools like MoleScope allow doctors to create an all-in-one virtual clinic set up to provide high quality skin check services.
MoleScope is a mobile dermoscope that can be attached to a wide variety of supported tablets or smartphones. The device will be used in the pharmacies to collect the dermoscopic images with high quality polarized lighting and magnification before they are sent to dermatologists for review on DermEngine.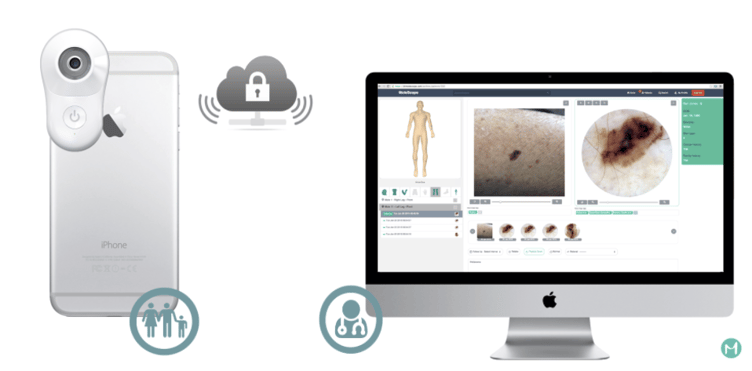 DermEngine is an intelligent dermatology software that provides high-quality dermoscopy imaging, efficient documentation and a seamless, secure communication solution for teledermatology services. Fueled by artificial intelligence (AI), this advanced dermatology system offers cutting-edge skin cancer imaging technology based on content-based image retrieval (CBIR) algorithms to support dermatologists with their clinical decisions.

How It Works
In many cases such as with Pure Pharmacy's Skin Check Services, patients can simply visit the online booking website and schedule an appointment at their convenience. Alternatively, visitors may drop in at their nearest pharmacy location during standard business hours.
Once the patient arrives, a staff member can take a medical-grade quality image using MoleScope II. The image(s) can then be sent and reviewed via DermEngine to a board-certified Dermatologist who will then submit a digital report to the patient within a few days.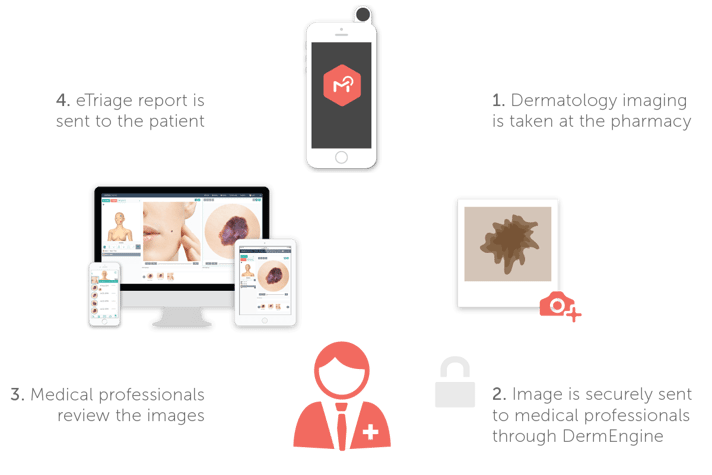 The Benefits of Intelligent Dermatology Software
Beneficial to all parties involved, DermEngine ultimately addresses the growing need for comprehensive, accessible, high quality skin care services. Equipped with the latest analytical tools for artificial intelligence in dermatology along with smart total body photography tools, DermEngine is designed to bring your practice to the forefront of the 21st century.
Dermatologists

: Enhanced workflow, access to the latest

intelligent dermatology software

, and increased connections within the medical industry while working on exciting projects with a measurable impact within your community


Patients

:

These proactive services focus on providing your customers with fast, affordable, and convenient teleconsultations that offer better access to care for medical and cosmetic dermatology conditions.

By participating in teledermoscopy services such as these, dermatologists such as yourself are provided with the opportunity to become an even larger part of their patient's healthcare plan through offering affordable skin health services designed to proactively detect skin cancer using the most advanced and intelligent dermatology software and dermoscopy tools.

-The MetaOptima Team

Would you like to learn more about the latest tools in dermoscopy and how they can support your practice?? Download the brochure below!

Topics: Dermatology eTriage Services Dermatology Software Teledermoscopy Intelligent Dermatology Software